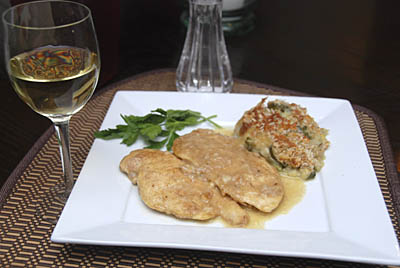 This chicken recipe is quick, easy and delicious. It can be made for a quick weeknight supper or can be made for a dinner party. It's an equally nice choice for both. I love chicken piccata and had forgotten how easy it is to make, especially if you have some chicken and a lemon in your refrigerator.
If you want to make this for a dinner party, make the chicken in advance and keep it in your refrigerator until ready to use. When the guests arrive and it's almost time for dinner, you can quickly make the sauce and then warm the chicken in it.
When I made the recipe I didn't have any capers, so I made the recipe without them. The recipe is excellent both with (if you like capers) or without them. In the picture above, the chicken is shown with a serving of delicious zucchini gratin.
Chicken Piccata
Adapted from Sara Moulton Cooks at Home

4 boneless, skinless chicken breast halves, about 6 ounces each
1/2 cup all-purpose flour
1 1/2 teaspoons kosher salt
1/2 teaspoon freshly ground black pepper
3 tablespoons extra-virgin olive oil
1 1/2 cups chicken stock, preferably homemade
2 – 3 tablespoons fresh lemon juice
2 tablespoons unsalted butter, cut into small pieces
1 tablespoon drained bottled capers, rinsed and chopped
Additional kosher salt and freshly ground black pepper
Thin slices lemon and chopped fresh parsley leaves, for garnish

Sprinkle a small amount of water on a large plastic sheet of plastic wrap. Place 2 of the breast halves on top of the plastic and sprinkle again with water. Cover with another sheet of plastic wrap and pound with a rolling pin or meat pounder until about 1/4-inch thick. Repeat with the remaining 2 breast halves.Mix the flour with the salt and pepper in a shallow pie plate. Heat half of the olive oil in a large skillet over medium-high heat until almost smoking. Working in 2 batches, place the chicken in the flour mixture and turn to coat on all sides. Shake off the excess flour and add to the skillet. Cook until lightly browned and cooked through, 3 to 4 minutes per side. Transfer to a plate or platter and cover loosely with foil. Repeat with the remaining oil and chicken.*

Pour off the fat from the skillet and return the skillet to the heat. Add the chicken stock and lemon juice. Increase the heat to high and bring to a boil, stirring to pick up and browned bits in the bottom of the pan. Simmer for 3 minutes. Return the chicken to the skillet and simmer, turning often, until warmed through and the sauce is thickened, about 2 minutes (you may need to spend a few more minutes warming the chicken if it was kept in the refrigerator). Add the butter and the capers. Season with salt and pepper and heat just until the butter has melted. Serve on warmed plates with a spoonful of the skillet sauce, topped with lemon slices and chopped parsley.

*At this point if you are not cooking the chicken to eat immediately, let it cool a bit, wrap it and put it in the refrigerator until you are ready to make the sauce.