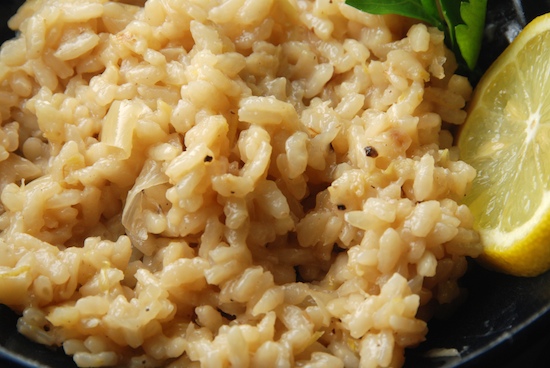 Our friends Bill and Dan stopped by for dinner recently and I didn't have time to run to the store before they arrived, so I dug through the freezer and the cupboards to see what I could create without leaving the house.    I happened to have a pork tenderloin, which is incredibly versatile and easy to cook.  I also had two heirloom tomatoes, a big hunk of fresh mozarella cheese and some well-aged balsamic vinegar that my friend Nicole gave us  (I could drink this stuff by the glass.)   I found a box of risotto in the cabinet and I had a lemon in the refrigerator so I pulled out How to Cook Everything by Mark Bittman  (my bible) and found this recipe for lemon risotto.   For a last minute dinner, I thought it was perfect.
I love almost anything with lemon in it – it doesn't matter if it's sweet or savory.  Two of my sons love lemons almost as much as I do.  Whenever they see me cutting one up, they ask if they can have some.   They're always disappointed if they get less than half.  They like to eat lemons by biting straight into them.  The resulting puckered faces are adorable.
One of my good friends is training for the NYC marathon and she's a member of a local running club.  She runs in Central Park almost every morning.  Well, listen to this.  She runs with Mark Bittman!   He's also training for the marathon.   I used to run and actually ran a marathon before I had the boys.  I don't run anymore, but I'm very tempted to start just to be able to run with Mark in the mornings.   How cool would that be?
Lemon Risotto
From How to Cook Everything by Mark Bittman

2 tablespoons butter or extra virgin olive oil, to taste
1 medium onion, chopped
Large pinch of saffron threads (optional)
1 1/2 cups Arborio or other short or medium-grain rice
salt and freshly ground black pepper
1/2 cup dry white wine
4 to 6 cups chicken broth
zest of one lemon
2 – 4 tablespoons softened butter or extra virgin olive oil
Freshly ground Parmesan cheese (optional)

Put the 2 tablespoons butter or oil in a large, deep non-stick skillet over medium heat. (Allow the remaining butter (if you're using it) soften while you cook.)  When the butter is melted or the oil is hot, add the onion and saffron and cook, stirring occasionally, until the onion softens, 3 to 5 minutes.

Add the rice and cook, stirring occasionally, until it is glossy and coated with butter or oil, 2 or 3 minutes.  Add a little salt and pepper, then the white wine.  Stir and let the liquid bubble away.

Use a ladle to begin adding the stock, 1/2 cup or so at a time, stirring after each addition.  When the stock is just about evaporated, add more.  The mixture should be neither soupy nor dry.  Keep the heat at medium to medium-high and stir frequently.

Begin tasting the rice 20 minutes after you add it.  When the rice is almost done, add the zest of one lemon.  You want the rice to be tender but still with a tiny bit of crunch; it could take as long as 30 minutes to reach this stage.  When it does, stir in the softened butter or oil (more is better, at least from the perspective of taste!), the juice of one lemon and at least 1/2 cup of Parmesan if you're using it.  Taste, adjust the seasoning, and serve immediately, passing additional Parmesan at the table if you like.

Yield:  4 – 6 servings

Print This Recipe