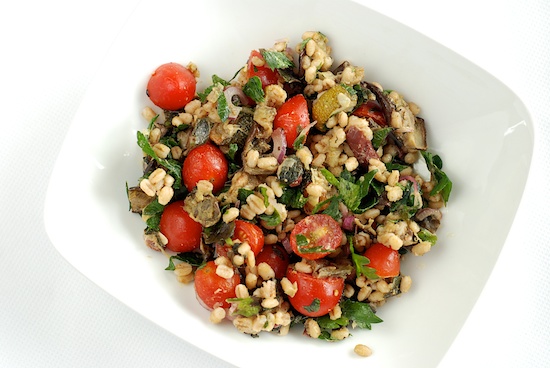 This salad is delicious, but I won't lie, it's fairly time-consuming to make.  There are lots of steps, lots of chopping and quite a bit of time needed. This is not something you're going to throw together on a weekday night after work, unless you're planning to eat it the next day.
I found this recipe while on my quest to polish off half-empty packages of things in my kitchen cabinets. I had a half-used package of pearl barley and found some beautiful Italian eggplant at the farmers market, so this recipe seemed perfect. I served it at an impromptu dinner party we had last weekend for 7 adults and 5 children. Needless to say, the kids had no interest in this salad. The adults enjoyed it though.
My husband takes all of the food photos for me.    He labeled this one virtuous salad, which made me laugh.   I ate this for lunch straight from the refrigerator for a couple of days.   It made a perfect lunchtime meal.
Mediterranean Eggplant and Barley Salad
Gourmet, September 2006

1 1/2 lb eggplant, cut into 1/2-inch cubes
3/4 lb zucchini, cut into 1/2-inch cubes
10 tablespoons extra-virgin olive oil
1 teaspoon salt
1 teaspoon black pepper
1 cup chopped scallion (from 1 bunch)
1 1/2 teaspoons ground cumin
1/2 teaspoon ground coriander
1/4 teaspoon cayenne
1 1/4 cups pearl barley (8 oz)
1 (14-oz) can reduced-sodium vegetable or chicken broth (1 3/4 cups)
3/4 cup water
2 tablespoons fresh lemon juice
1 garlic clove, minced
1/4 teaspoon sugar
1/2 lb cherry tomatoes, quartered
1/3 cup Kalamata or other brine-cured black olives, pitted and halved
1/2 cup thinly sliced red onion, rinsed and drained if desired
1 cup chopped fresh flat-leaf parsley
1/2 cup chopped fresh mint

Roast eggplant and zucchini:
Put oven racks in upper and lower thirds of oven and preheat oven to 425°F.

Toss eggplant and zucchini with 5 tablespoons oil, 3/4 teaspoon salt, and 3/4 teaspoon pepper in a bowl, then spread on 2 oiled rimmed baking sheets. Roast vegetables, stirring occasionally and switching position of pans halfway through baking, until vegetables are golden brown and tender, 20 to 25 minutes total. Combine vegetables in 1 pan and cool, reserving other pan for cooling barley.

Cook barley:
Heat 2 tablespoons oil in a 3- to 4-quart heavy pot over moderately high heat until hot but not smoking, then cook scallion, cumin, coriander, and cayenne, stirring, until fragrant, about 1 minute. Add barley and cook, stirring until well coated with oil, 2 minutes more. Add broth and water and bring to a boil. Reduce heat and simmer, covered, until all of liquid is absorbed and barley is tender, 30 to 40 minutes. Remove from heat and let stand, covered, 5 minutes. Transfer to reserved shallow baking pan and spread to quickly cool, uncovered, to room temperature, about 20 minutes.

Make dressing and assemble salad:
Whisk together lemon juice, garlic, sugar, and remaining 1/4 teaspoon salt, 1/4 teaspoon pepper, and 3 tablespoons oil in a large bowl. Add barley, roasted vegetables, and remaining ingredients to bowl with dressing and toss until combined well.

Yield: 8 servings as a side dish

One year ago: Buttermilk Ice Cream
Two years ago: English Muffins
Three years ago: Roasted Potatoes
Four years ago: Tuna Salad with Cannellini Beans

Print This Recipe