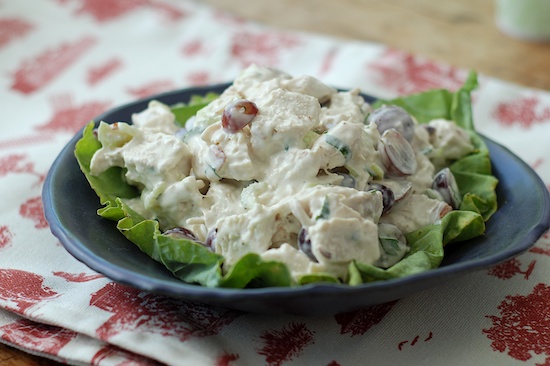 The recipe for this salad came to me in a weekly email full of recipes that I receive from Saveur magazine. This chicken salad is very similar to one that my mother made when I was growing up. We usually had it when company came over. It was rich and delicious and it was my absolute favorite chicken salad.   This salad was created for the café menu at Neiman Marcus department stores in the 1950s. The 50s was the decade of Elvis Presley, Marilyn Monroe, Sputnik 1 and the Korean War.
I love that this salad is a combination of savory and sweet and I like the crunch of the almonds. Overall a great combination. It's quite decadent too.
I found the recipe as written to have a little too much sauce.   Next time I make it, I'm going to mix all of the dry ingredients together, then I'll add the mayo to taste.   I'll start by adding 1/2 cup and then add from there.   I'll then do the same with the whipped cream.
Please don't confuse the whipped cream called for in this recipe (meaning heavy cream that you whip until it forms soft peaks) with the sweetened stuff that you find in the dairy case of your supermarket.   This recipe calls for the former.
Neiman Marcus Chicken Salad
Recipe from Saveur.com

6 cups cooked chicken breasts, cut into ½″ cubes (~1.5 – 2 lbs. chicken breasts)
1 cup mayonnaise (or less if you like a less saucy salad)
1 cup thinly sliced celery
1 cup halved purple grapes
½ cup sliced almonds, toasted
1 tbsp. finely chopped parsley
1 tsp. kosher salt, plus more to taste
½ cup whipped cream (unsweetened) (use less if you don't like your salad to have a lot of dressing)
Freshly ground black pepper, to taste

Combine chicken, mayonnaise, celery, grapes, almonds, parsley, and salt in a bowl. Add whipped cream and pepper; fold to combine.

Yield:   about 6 cups

One year ago: Cheese Danish
Two years ago: Black Beans and Rice with Cheese
Three years ago: Grilled Tuna with Herbed Aïoli

Print This Recipe