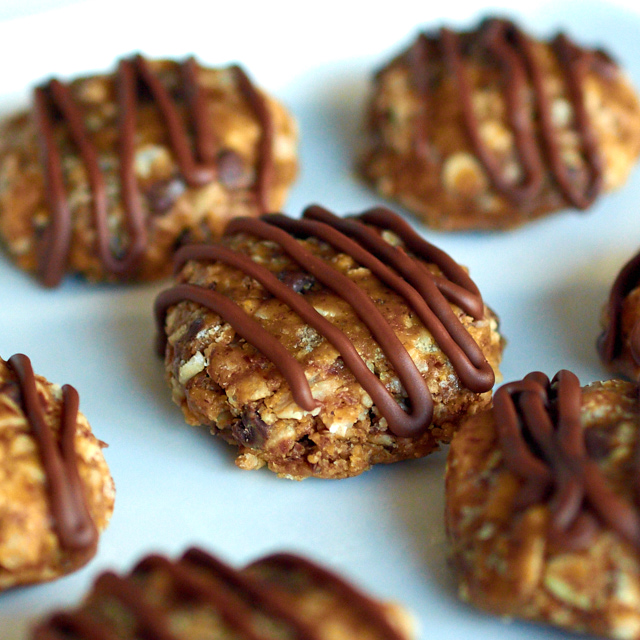 I am still on a quest to find healthy things for the boys to eat. They are all in high school now, three sophomores and a freshman, and although their eating habits have gotten infinitesimally better, and I mean infinitesimally, they are still not great. Until they are off to college, I will continue to search for healthy things for them to eat that I can actually get them to eat. These breakfast cookies are one of them, at least for three of the boys.
These are very easy to make, and if you're a baker you probably have most of the ingredients in the house. The flaxseed might be the only thing that you have to buy. If you live near a Trader Joe's, they sell a bag of flaxseed meal that works perfectly in this recipe. That's what I used.
This recipe is fairly flexible in that you can add additional mix-ins. If you have any kind of dried fruit or nuts in the house, they can be chopped and a Tablespoon can be added to the mixture.
These are a great grab-and-go breakfast or snack that I like to have on hand for busy mornings.
No Bake Healthy Breakfast Cookies
Recipe adapted ever so slightly from Chelsea's Messy Apron

1/2 cup creamy peanut butter
2 Tablespoons honey or agave nectar
1 teaspoon vanilla extract
Pinch of salt
1/2 cup Rice Krispies cereal
1/4 cup flaxseed or flaxseed meal
1/2 cup old-fashioned oats (not cooked)
1 Tablespoon mini chocolate chips (optional)

Topping (optional):
3 Tablespoons chocolate chips (milk or semi-sweet)
1/8 teaspoon of coconut oil (optional, but it does help the chocolate harden)

In a medium-sized microwave-safe bowl, combine the peanut butter, honey, vanilla, and salt. Microwave for 20-30 seconds and stir until combined.

In that same bowl, add in the rice krispie cereal, flaxseed, oats and mini chocolate chips (if using.) Stir together until completely combined.

Place in the refrigerator for 20-30 minutes for easier forming.

Use a spoon or a small ice cream scoop and your hands to help form balls with the mixture and then flatten the balls to create a cookie shape.

If desired, melt 3 tbsp. of milk or semi-sweet chocolate chips in the microwave with 1/8 teaspoon of coconut oil. Put the melted chocolate mixture in a small Ziploc bag and cut a small hole in the tip of the bag. Drizzle the chocolate across the cookies and let the chocolate harden.

Store cookies in an airtight container for 4-5 days or freeze for up to 3 months.

Yield: ~12 cookies, depending on the size

One year ago: Salted Caramel and Chocolate Rice Krispies Squares
Two years ago: Broiled Flounder with Parmesan "Caesar" Glaze
Three years ago: Chocolate Sugar Cookies
Four years ago: Asian Quinoa Salad
Five years ago: Malted Chocolate Madeleines
Six years ago: Ground Turkey Shepherd's Pie
Seven years ago: Shortbread Candy Bars
Eight years ago: Joanna Pruess's Molasses Spice Cookies
Nine years ago: Cheddar Apple Frittata

Print This Recipe