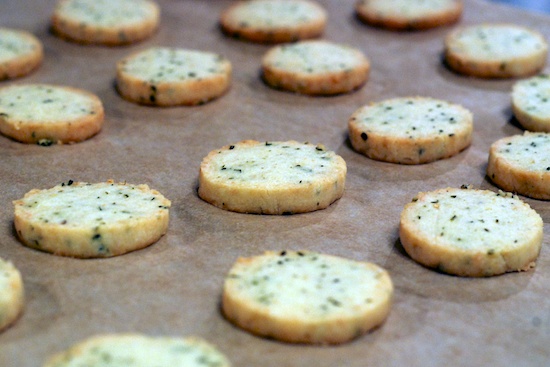 The weekend after Christmas we always visit my relatives in Gloucester, MA.   This year my mom was responsible for bringing the hors d'oeuvres and I decided to contribute a few things as well.   I can never be responsible for all of the hors d'oeuvres because being prompt is not one of our strengths.
I brought a batch of sugar spiced nuts, which everyone always loves. I also brought a double batch of shrimp toast, and a batch of these crackers. I received compliments on all of them.  I'm always amazed at how easy it is to make homemade crackers.   I'm also always amazed at the price I pay for them when I want to buy a small box at the store. I'm also amazed at the junky ingredients that can be found in boxed crackers. I love the fact that everything in these crackers is natural.
These crackers are very tasty, especially if you like cheese.   I think they're meant to be popped in your mouth whole, because they tend to crumble if you try to bite them in half.
Rosemary Parmesan Coins
Recipe from Fine Cooking Magazine, December 2003

6 oz. (1-1/3 cups) all-purpose flour
1 oz. (3/4 cup lightly packed) freshly finely grated Parmigiano Reggiano
1 generous Tbs. finely grated lemon zest (from 1 to 2 lemons)
2-1/2 tsp. coarsely chopped fresh rosemary
1 tsp. table salt
1/4 tsp. coarsely ground black pepper
4 oz. (1/2 cup) unsalted butter, cut into 1/2-inch pieces, chilled
1 large egg yolk
2 Tbs. fresh lemon juice
Kosher salt for sprinkling (optional)

Combine the flour, cheese, lemon zest, rosemary, salt, and pepper in a food processor. Process until just blended. Add the butter pieces and pulse until the dough resembles coarse crumbs. Stir the yolk and lemon juice together with a fork and drizzle over the mixture. Pulse until the dough begins to form small, moist crumbs that just begin to clump together.

Pile the moist crumbs on an unfloured work surface. With the heel of your hand, push and gently smear the crumbs away from you until they start to come together in a cohesive dough. Using a pastry scraper or a metal spatula, lift up one edge of the dough and fold it into the center (the dough will still be rough, so don't expect a neat, smooth fold). Repeat with the opposite edge, like folding a letter. Turn the dough 45 degrees. Give the dough another smearing and shape it into a 14-inch log that's 1-1/4 inches in diameter. Wrap in plastic and refrigerate until firm, about 4 hours, or up to two days.

Heat the oven to 375°F. Line two large baking sheets with parchment. Using a thin, sharp knife, cut the log into 1/4-inch slices. Arrange about 1/2 inch apart on the prepared sheets. Bake until medium golden around the edges, 15 to 20 minutes, rotating the sheets as needed for even baking. (Don't overbake or you'll lose the lemon and rosemary flavors.) If you like, sprinkle the crackers with a little kosher salt just as the baking sheets come out of the oven. Set the sheets on racks to cool. When the coins are completely cool, store in an airtight container.

Make Ahead Tips:
The rolled log of dough may be frozen for up to a month and then thawed on the counter for about an hour or in the refrigerator overnight. Or bake the coins ahead, wrap short stacks in plastic, pack the stacks in plastic containers, and stash them in the freezer. Thaw at room temperature (or put the frozen coins right in the oven) and warm them for a few minutes at 325°F to refresh them.

One year ago: Curried Rice and Quinoa Salad
Two years ago: Maple Braised Pork Chops

Print This Recipe