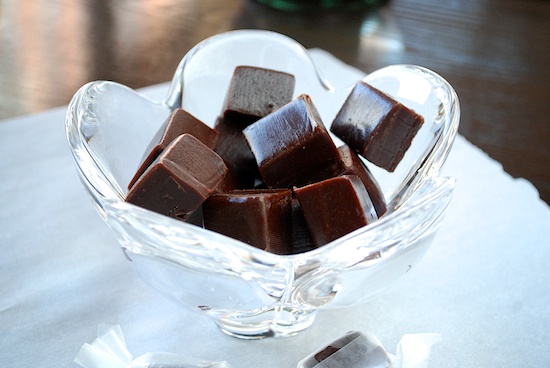 I love caramels.  I love chocolate.   The two together?  Delicious.
Making caramels is not hard if you have the right tools.   You'll need an 8″ x 8″ square metal pan, parchment paper and a candy thermometer.   You won't be able to make the caramels without a thermometer because you have to let the candy boil until it reaches 255°F.
We saw Pippin on Broadway the other night with some friends, and I brought small bags of these to the theater for a snack during intermission. If you live in NY, or plan to visit, I HIGHLY recommend Pippin. It's one of the best Broadway shows I've seen in a long time. Really.
The feedback on the caramels was good. I chose not to use salt on top. One of my sons sprinkled a little salt on his and said he liked the caramels better salted. I preferred them unsalted. Our friend Chris came over the other night and put ghost chili flakes on them and gave them a thumbs up. I haven't been brave enough to try them with really hot chili flakes on them, but I have heard that chili and chocolate go well together.
Salted Chocolate Caramels
Recipe from Gourmet via Smitten Kitchen


2 cups heavy cream
10 1/2 oz fine-quality bittersweet chocolate (no more than 60% cacao if marked), finely chopped [Deb note: my in-house options were Toll House chocolate chips or high-quality 72% chocolate. I went with the 72 percent. The slight extra bitterness is fantastic.]
1 3/4 cups sugar
1/2 cup light corn syrup
1/4 cup water
1/4 teaspoon salt
3 tablespoons unsalted butter, cut into tablespoon pieces
1 – 2 teaspoons flaky sea salt such as Maldon
Vegetable oil for greasing the cutting knife

Line bottom and sides of an 8-inch straight-sided square metal baking pan with 2 long sheets of crisscrossed parchment.

Bring cream just to a boil in a 1- to 1 1/2-quart heavy saucepan over moderately high heat, then reduce heat to low and add chocolate. Let stand 1 minute, then stir until chocolate is completely melted. Remove from heat.

Bring sugar, corn syrup, water, and salt to a boil in a 5- to 6-quart heavy pot over moderate heat, stirring until sugar is dissolved. Boil, uncovered, without stirring but gently swirling pan occasionally, until sugar is deep golden, about 10 minutes. Tilt pan and carefully pour in chocolate mixture (mixture will bubble and steam vigorously, so be careful). Continue to boil over moderate heat, stirring frequently, until mixture registers 255°F on thermometer, about 15 minutes. Add butter, stirring until completely melted, then immediately pour into lined baking pan (do not scrape any caramel clinging to bottom or side of saucepan). Let caramel stand 10 minutes, then sprinkle evenly with sea salt. Cool completely in pan on a rack, about 2 hours.

Carefully invert caramel onto a clean, dry cutting board, then peel off parchment. Turn caramel salt side up. Lightly oil blade of a large heavy knife and cut into 1-inch squares. (If desired, additional sea salt can be pressed onto caramels after cutting.)

Caramels keep, layered between sheets of parchment or wax paper, in an airtight container at cool room temperature 2 weeks. To package them up pretty, the caramels can be wrapped in 4-inch squares of wax paper; twist ends to close.

Yield: 64 caramels

One year ago: Monkey Bread Muffins
Two years ago: Baja-Style Fish Hand Pies
Three years ago: Chicken, Ham and Swiss Roulades
Four years ago: Frozen Chocolate Covered Bananas
Five years ago: Sweet Corn Muffins


Print This Recipe