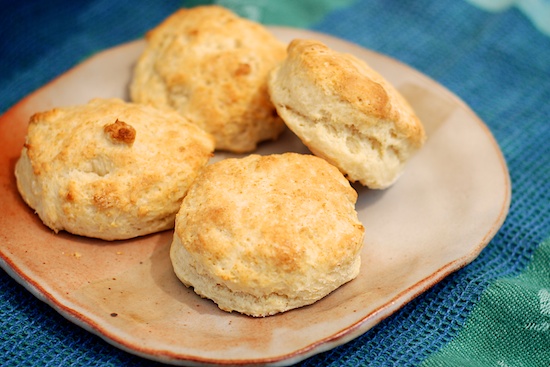 So, I've been playing around with Twitter lately. I figure it's time I should have a first-hand understanding of the software that the boys will be using in a couple of years. My sister has been talking about Twitter for quite some time now, so I finally joined. I'll be tweeting my recipes. If you're interested, please follow me: @stylishcuisine
My boys are always requesting that I make biscuits. Found this recipe online and it was great. The boys ate them plain with their lunch. I split mine in half and filled it with a slice of ham and a slice of Swiss. It was delicious – a perfect little sandwich for lunch.
I don't ever have shortening on hand. I actually never cook with it, so I replaced the shortening in the recipe with butter. The biscuits were still terrific.
Please don't forget to follow me on Twitter! @stylishcuisine
Southern Biscuits
Recipe from Alton Brown on FoodNetwork.com

2 cups flour
4 teaspoons baking powder
1/4 teaspoon baking soda
3/4 teaspoon salt
2 tablespoons butter
2 tablespoons shortening (you can use butter if you don't have shortening)
1 cup buttermilk, chilled

Preheat oven to 450 degrees.

In a large mixing bowl, combine flour, baking powder, baking soda and salt. Using your fingertips, rub butter and shortening into dry ingredients until mixture looks like crumbs. (The faster the better, you don't want the fats to melt.) Make a well in the center and pour in the chilled buttermilk. Stir just until the dough comes together. The dough will be very sticky.

Turn dough onto floured surface, dust top with flour and gently fold dough over on itself 5 or 6 times. Press into a 1-inch thick round. Cut out biscuits with a 2-inch cutter, being sure to push straight down through the dough. You can also use a drinking glass if you don't have a biscuit cutter. Place biscuits on baking sheet so that they just touch. Reform scrap dough. Try to work it as little as possible and continue cutting.

Bake until biscuits are tall and light gold on top, 15 to 20 minutes.

Yield: ~12 biscuits

One year ago: Peach Sour Cream Waffles
Two years ago: Black Bottom Cupcakes
Three years ago: Double Chocolate Cookies

Print This Recipe