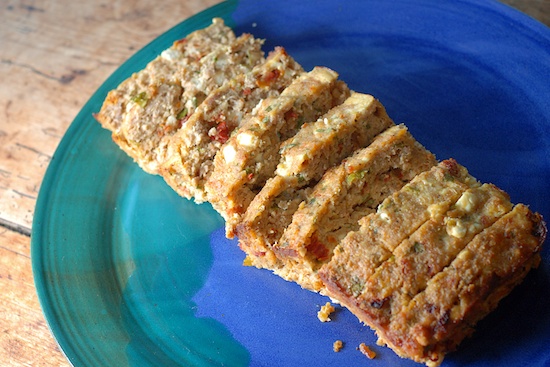 I took the boys to the library the other day for a smoothie-making class.   They really enjoyed it – even the one that doesn't like any fruits or vegetables.   He didn't like any of the smoothies (I tried them and can confirm that they were delicious), but I gave him credit for trying them.   It was a huge step for him.   After the class, they all picked out some books to borrow and they logged the few books that they have read so far this summer.    I went straight to the cookbook section.
I don't own any Giada cookbooks, but I really love her recipes.   My cousin Chris turned me on to her.    I've already made three recipes from Giada at Home and I loved every one of them.  I'll post the other two soon.    I hope to have the opportunity to make several more before I have to return the book to the library.
I loved this meatloaf, but I found it to be a bit salty.   This was because the feta that I bought was particularly salty.    Next time I make this I'll taste the feta first.  If it's salty, I'll back off on the salt in the recipe.    I used plain sun-dried tomatoes in oil because I couldn't find the garlic and herb version here on Shelter Island.  The resulting meatloaf was still really flavorful.  This was a nice change from the regular turkey meatloaf that I make. I thought it was fun to make in a loaf pan. Every other meatloaf I have made has been freeform on a baking sheet.
Turkey Meatloaf with Feta and Sun-Dried Tomatoes
Recipe from Giada at Home by Giada de Laurentiis

Vegetable cooking spray
1/2 cup plain bread crumbs
1/3 cup chopped fresh flat-leaf parsley
1/4 cup chopped garlic and herb-marinated sun-dried tomatoes
2 cloves garlic, minced, optional
2 eggs, at room temperature, lightly beaten
2 tablespoons whole milk
1/2 cup crumbled feta cheese
1 1/2 teaspoons kosher salt (use less salt if your feta is salty)
1 teaspoon freshly ground black pepper
1 pound ground turkey, preferably dark meat

Place an oven rack in the center of the oven. Preheat the oven to 375 degrees F.

Spray a 9 by 5-inch loaf pan with cooking spray.

In a large bowl, stir together the bread crumbs, parsley, sun-dried tomatoes, garlic, if using, eggs, milk, feta, salt, and pepper. Add the turkey and gently stir to combine, being careful not to overwork the meat.

Carefully pack the meat mixture into the prepared pan and bake until the internal temperature registers 165 degrees F on an instant-read thermometer, about 45 minutes. Remove from the oven and let rest for 5 minutes. Transfer to a cutting board and slice. Put on a serving platter and serve.

Yield:  4 servings

One year ago: Zucchini and Ricotta Galette
Two years ago: Shrimp Salad

Print This Recipe