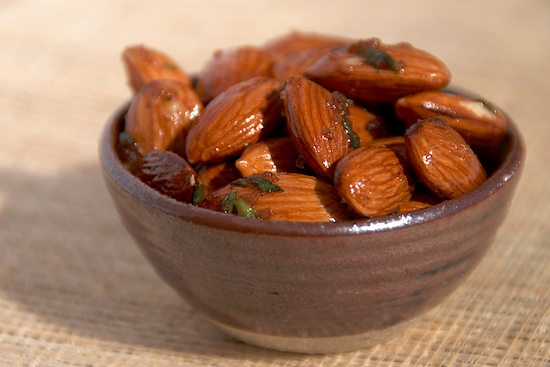 We had a lot of company over Labor Day weekend and consequently I cooked quite a bit, but mostly tried and true recipes.    The only new recipe I tried was for Union Square Cafe (great restaurant, by the way) bar nuts.   I thought they were really tasty.   I love fresh herbs – especially rosemary – and these nuts are loaded with it.    Your room will be filled with the scent of rosemary when these come out of the oven.
If you don't have fresh rosemary on hand, don't bother trying to make these.  I don't think dried rosemary will cut it.   These are great served warm, and they're best right out of the oven.   I made mine the day before the company came, and they're good reheated in the microwave, but best fresh out of the oven.    They're both sweet and salty and they definitely have some heat to them.   You can increase or decrease the heat by changing the amount of cayenne pepper that you add.   In my opinion, they're great with 1/2 teaspoon, as the recipe suggests.
The recipe calls for assorted nuts.   I only had almonds on hand so that's what I used, and they were delicious.  Once these come out of the oven they're addicting, so watch out!
Union Square Cafe Bar Nuts
From The Union Square Cafe Cookbook by Danny Meyer and Michael Romano


1 1/4 pounds unsalted, assorted nuts (~5 cups)
2 tablespoons coarsely chopped fresh rosemary
1/2 teaspoon cayenne pepper
2 teaspoons dark brown sugar
2 teaspoons kosher salt
1 tablespoon butter, melted

Preheat the oven to 350 degrees F.

Toss the nuts in a large bowl to combine and spread them out on a cookie sheet. Toast in the oven until they become light golden brown, about 10 minutes.

In the large bowl, combine the rosemary, cayenne, brown sugar, salt and melted butter.

Thoroughly toss the warm toasted nuts in the spiced butter and serve warm.

Yield:  ~5 cups

Print This Recipe