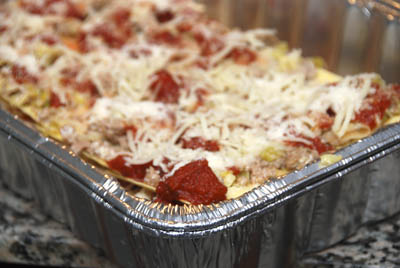 This lasagna is different, but it's incredibly delicious. It's a recipe that my brother sent to me a number of years ago. The thing I love about it most is that it's really easy to prepare because you don't need to cook the noodles before assembling it. I have served this many times at dinner parties and I have been asked several times if I made it with fresh pasta noodles. I was almost embarrassed to say that I used boxed, oven-ready noodles.
When you make this, you'll find that it seems pretty liquidy (if that's a word) when you put it in the oven. Don't worry – that's the way it's supposed to be. The noodles are going to cook in the oven, so they need to have some liquid to absorb as they cook.
When you assemble this lasagna, make sure that the edges and corners of the top noodles are covered with some type of liquid or sauce so they don't dry out when they cook. Another tip: I always slice the leeks and wash them incredibly well in a colander. Leeks are grown in sandy soil and the last thing you want is a crunchy lasagna because of sand, so wash the leeks really well!
I made the lasagna in the picture for a friend which is why it's in a throw-away container. I also took the picture just before it was going into the oven, so you're looking at uncooked lasagna. This is one of my favorite recipes to give away so I often make this in throw-away containers. Having a baby? Having an operation? Give me a call!
Lasagna with Pink Sauce, Leeks and Sausage
Adapted from BarillaUS.com


1 tbsp. extra virgin olive oil
1 lb. spicy turkey sausage
5 medium leeks thinly sliced (about 3 cups)
1 cup dry white wine
1 cup whipping cream or half & half
1 cup chicken broth
2 cups Barilla Italian Baking Sauce (or any tomato sauce that you like)
1 box Barilla oven-ready lasagna
2 cups shredded swiss cheese
6 – 8 tbsp. grated Pecorino Romano cheese

Heat the oil in large skillet over medium heat. Add sausage. Cook 15 minutes or until meat just loses pink color, breaking up chunks with wooden spoon.

Add the leeks; cook 3 to 4 minutes or until wilted. Stir in wine and broth; bring to boil.

Reduce heat to medium-low; simmer 20 minutes or until liquid is reduced by about half. Stir in cream; continue cooking 5 minutes.

Preheat oven to 375°F.

To assemble: Spread 1 cup sausage mixture in 13×9-inch baking dish; top with 4 lasagne sheets and another cup of sausage mixture. Top with ½ cup Italian Baking Sauce, ½ cup swiss cheese, 2 tbsp. grated Romano cheese. Starting with the noodles, you've now completed a layer. The layers in this lasagna are: noodles, sausage mixture, sauce and 2 cheeses. You want to repeat this once more so you have two layers. Then put the final 4 noodles on top and cover with the remaining meat, sauce and cheese. Pour in any liquid that was in your meat mixture. This is needed to cook the noodles.

Cover tightly with foil (covering with foil is an important step so the noodles cook correctly). Bake for 50 minutes. Remove from the oven. Let stand 10 minutes before serving.



Yield: 8 servings