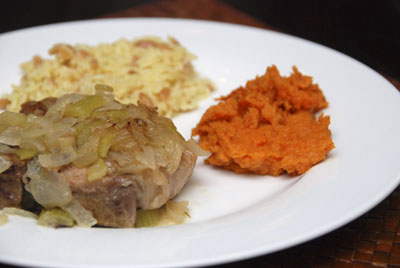 I grew up eating this recipe. My mom who is an excellent cook would make it all the time and I would really look forward to having it for dinner as a child. I could easily eat two pork chops and if I was really hungry, sometimes three. I thought it was just that good.
These days, my husband and I are the only ones who will eat it. None of the boys will touch it. Because only two of us will eat it, I buy pork chops at Costco and freeze them in bags of four. This last time, I used my vacuum sealer which I found when I was looking in the tops of my cabinets for a particular Tupperware container that I like. I vacuum sealed 4 to a package. I like to have frozen meat on hand so I can make a quick weeknight meal.
When my grandmother made this recipe, she always added chopped celery to the onions. She swore that was the only way to make it. I have made it both ways, and I prefer the onions alone.
If you're going to try this recipe, don't do what I did last time. Don't start browning the pork chops after you put the kids to bed. If you do that, you won't be eating before 10pm. The chops need an hour in the oven to cook, but they're well worth the wait.
If you decide to serve these to company, it's nice to sprinkle chopped parsley on top. Since we typically eat this as a weeknight meal, I never do, but they look much fancier topped with a little green.
Braised Pork Chops
Recipe from Carole Hess

4 thick loin pork chops
3 Tbsp. flour
1 tsp. salt
1/4 tsp. pepper
2 Tbsp. butter
1 cup onion, thinly sliced (~ 2 medium onions – if you end up with more than a cup that's ok)
1 bay leaf
1 cup chicken broth
1/2 tsp. thyme (optional)
Chopped parsley (optional garnish)

Preheat oven to 350.

Mix the flour, salt and pepper together on a plate. Dredge the pork chops in the flour mixture. Melt the butter in a heavy skillet. Brown the pork chops on both sides until they are a straw color. Once browned, put the pork chops in a 9″ x 13″ baking dish.

Cook the onions in the pan that you just used for ~5 minutes or so, until they're translucent. Sprinkle the cooked onions over the pork chops. Add the thyme (if you like it and decide to use it), bay leaf and chicken broth to the baking dish. Cover tightly and cook for 45 minutes. Uncover and cook for 15 additional minutes. Sprinkle chopped parsley on top (optional) and serve.