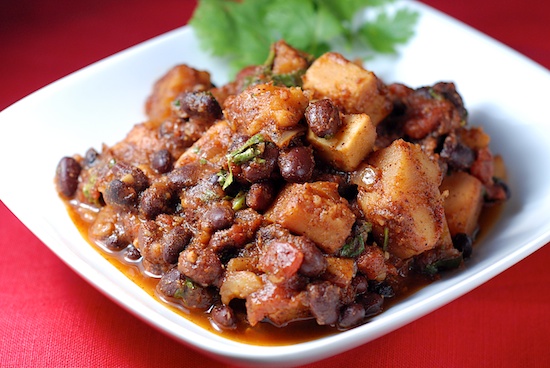 This chili is delicious, and it's a perfect weeknight meal because it doesn't take too long to prepare.   I made it for dinner on Sunday after we had been out all day, and it didn't take long to make at all.   That said, if you have some extra time when you make this, I always find that chili benefits from a little extra simmering on the stove.  I plan to make it again this week.
When I made this, I used some chicken broth instead of water because I had some in the refrigerator that needed to be used.  I've had this recipe both ways – with some chicken broth and with all water, and it's delicious both ways.
If you're making it for kids you may want to ease up on the chipotle chili powder, because it gives the chili some nice heat.  You can either cut it in half or replace it entirely with regular chili powder which isn't as spicy.
This is great as leftovers for lunch and I love that it's vegetarian.
Did the boys try it?  Nope.
Sweet Potato and Black Bean Chili
Recipe from EatingWell.com

1 tablespoon plus 2 teaspoons extra-virgin olive oil
1 medium-large sweet potato, peeled and diced
1 large onion, diced
4 cloves garlic, minced
2 tablespoons chili powder
4 teaspoons ground cumin
1/2 teaspoon ground chipotle chile (see Note)
1/4 teaspoon salt
2 1/2 cups water
2 15-ounce cans black beans, rinsed
14 ounces of diced tomatoes
4 teaspoons lime juice
1/2 cup chopped fresh cilantro

Heat oil in a Dutch oven over medium-high heat. Add sweet potato and onion and cook, stirring often, until the onion is beginning to soften, about 4 minutes. Add garlic, chili powder, cumin, chipotle and salt and cook, stirring constantly, for 30 seconds. Add water and bring to a simmer. Cover, reduce heat to maintain a gentle simmer and cook until the sweet potato is tender, 10 to 12 minutes.
Add beans, tomatoes and lime juice; increase heat to high and return to a simmer, stirring often. Reduce heat and simmer until slightly reduced, about 5 minutes. Remove from heat and stir in cilantro.

Yield:  4 servings

Print This Recipe