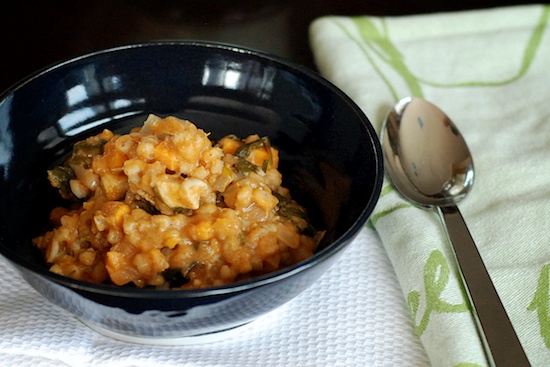 This soup is incredibly healthy and quite delicious.    I ate it for a couple of days and I loved every bowl I ate.  The combination of spices is wonderful.   I took this picture the day after I made it.   I wish I had gotten a picture when it was first cooked – the spinach was bright green and it looked more like a soup and less like a stew.    Barley soups tend to thicken the longer they sit as barley will absorb a lot of broth.   I could have thinned the soup by adding a little water or stock, but I liked it thick. It was definitely more like a stew the second day.
If you're a vegetarian, I think this would be equally delicious without the chicken.   You can also substitute vegetable broth for the chicken broth.
I made this recently, intending to serve it for dinner, but of course I didn't read all of the directions before I launched into it, and I didn't start it until 5:30pm, so the soup wasn't ready until after 7pm – well after we had finished dinner. Please learn from me and read a recipe in its entirety before beginning to cook it. This recipe takes a couple of hours from start to finish, so I recommend making it during the afternoon if you want to serve it for dinner that night.
Spicy Chicken Barley Soup with Sweet Potatoes and Spinach
Recipe from culinate.com

3 Tbsp. extra-virgin olive oil
1 Spanish onion, chopped
1 tsp. kosher salt, plus more to taste
½ tsp. sweet paprika
¼ tsp. ground cinnamon
¼ tsp. chili powder
¼ tsp. ground coriander
¼ tsp. freshly ground black pepper
~Pinch of cayenne
1 Tbsp. tomato paste
3 garlic cloves, chopped
6 cups low-sodium or good homemade chicken broth
1 cup pearled barley, rinsed well
1 sweet potato, peeled and diced
12 oz. boneless, skinless chicken breasts or thighs, cut into bite-size pieces
5 oz. (1 bag) baby spinach
½ cup chopped fresh cilantro or mint
1 Tbsp. freshly squeezed lemon juice
~Lemon wedges, for serving

Heat the oil in a large soup pot over high heat. Add the onion and salt and sauté until limp, about 3 minutes. Add all the spices and sauté until fragrant, about 2 minutes. Add the tomato paste and sauté for another minute, until darkened but not burned. (If the tomato paste looks too dark too quickly, lower the heat.) Add the garlic and continue to sauté for 1 minute longer.

Return the heat to high if you lowered it, then add the broth, 2 cups of water, and the barley to the pot. Bring to a boil and let simmer for 30 minutes.

Add the sweet potato and continue to cook until the barley and sweet potatoes are soft, about 30 minutes or more, adding more water if needed.

Add the chicken, partially cover the pot, lower the heat, and simmer about 10 minutes or until the chicken is fully cooked. Add the spinach and cilantro and simmer until wilted. Add the lemon juice and season to taste with salt.

Serve with the lemon wedges on the side.

Yield: 6 – 8 servings

One Year Ago: Mediterranean Farro Salad
Two Years Ago: Chicken with Tabbouleh

Print This Recipe