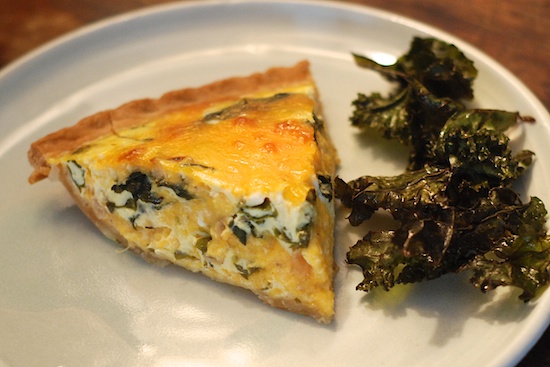 I love picking up my weekly vegetables from the CSA.   We were recently given Lamb's Quarters.   I had never heard of them before so I had to look them up.   I thought they were weeds, and actually some people still consider them weeds, but they're quite delicious when baked into a quiche.    I bet they'd be great steamed as well (if you like dark leafy greens like kale, collards, etc.)   They're loaded with vitamins!
I have a side of kale chips in the photo above.  I've been getting a lot of kale at the CSA recently and I'm still amazed that my boys (at least a couple of them) love it.
This quiche was quite cheesy. I still thought it was delicious, but it was cheesier than some of the other quiches I make. I didn't have extra-large eggs, so I used four of my smaller eggs from the CSA.   If you don't have lamb's quarters, I'm sure this would be just as delicious with baby spinach.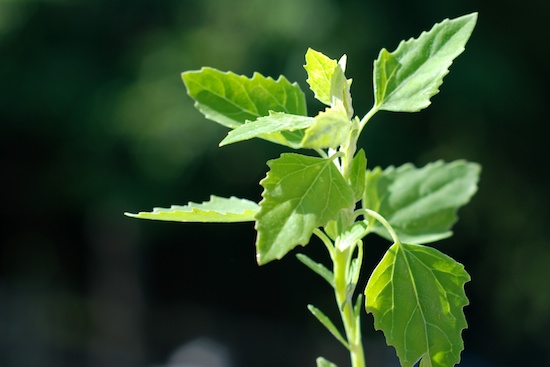 Lamb's Quarter Quiche
Recipe adapted from tasteofhome.com

1 medium onion, chopped
2 tablespoons canola oil
4 cups chopped lamb's-quarter (tender new leaves)
3 extra large eggs
1-2/3 cups milk
1/2 teaspoon salt
1/2 teaspoon pepper
2 cups (8 ounces) shredded cheddar cheese, divided
1 unbaked pie pastry (9 inches)

Preheat oven to 425°; prick the crust all over with a fork. Line it with tin foil and weight the bottom with a pile of dried beans, rice, or other weights that will sit flat on the surface. Bake 12 minutes; remove from the oven and carefully remove the weight and foil; turn the oven to 350°.

Meanwhile, in a skillet, saute onion in oil until tender. Add the lamb's-quarter; cook and stir until wilted. Cover and remove from the heat.

In a bowl, beat eggs and milk. Stir in salt, pepper, cheese and lamb's-quarter mixture. Pour into pie shell. Bake at 350° for 40 minutes or until a knife inserted near center comes out clean. Let stand 5-10 minutes before cutting.

Yield: 6-8 servings

One year ago: Pasta, Pesto and Peas
Two years ago: Strawberry Granita
Three years ago: Linguini with Shrimp Scampi

Print This Recipe