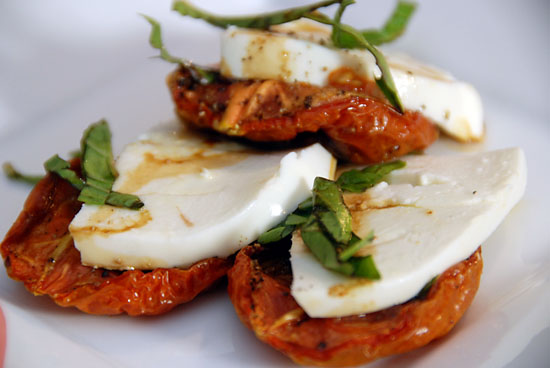 One of my favorite things to eat in the late summer is a Caprese Salad made with ripe heirloom tomatoes.  There's nothing better.  I can eat it for breakfast, lunch and dinner.  Really.   It's always a sad day in the early fall when the local farmer's market tells me that there will be no more heirloom tomatoes until next summer.  Well with this recipe those sad days are gone.    I can now have Caprese Salad all year long!    And this recipe is particularly good.  So good that I'll have to think long and hard about which one I prefer, this one or my traditional summer heirloom salad.  I think it's a toss up.
These tomatoes are incredibly flavorful which makes it hard to eat just one.  If you have a couple of hours at home one day, I definitely recommend that you try this recipe.  If you can't find plum tomatoes, try to find smallish tomatoes.   I have made this recipe three times in the last week, and most recently I couldn't find plum tomatoes, nor could I find small tomatoes, so I used some on-the-vine tomatoes that I found in the supermarket that were about the size of my fist.  The salad made with these larger tomatoes was good, but the smaller, oval tomatoes make a much better salad.  They roast better.
Once I assembled the salad, I drizzled it with some amazing Ravida olive oil and Leonardi balsamic vinegar that my friend Tom gave me after he visited us recently (thanks again Tom!)  The vinegar is thick and syrupy and added a nice touch to the salad.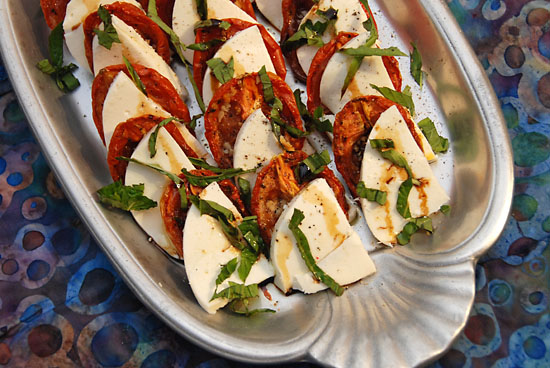 Roasted Tomato Caprese Salad
From Barefoot Contessa Back to Basics by Ina Garten

12 plum tomatoes, halved lengthwise, seeds (not cores) removed
1/4 cup good olive oil, plus more for drizzling
1 1/2 tablespoons balsamic vinegar
2 large garlic cloves, minced
2 teaspoons sugar
Kosher salt and freshly ground black pepper
16 ounces fresh salted mozzarella
12 fresh basil leaves, julienned

Preheat the oven to 275 degrees F.

Arrange the tomatoes on a sheet pan, cut sides up, in a single layer. Drizzle with 1/4 cup of olive oil and the balsamic vinegar. Sprinkle with the garlic, sugar, 1 1/2 teaspoons salt, and 1/2 teaspoon pepper. Roast for 2 hours until the tomatoes are concentrated and begin to caramelize. Allow the tomatoes to cool to room temperature.

Cut the mozzarella into slices slightly less than 1/2-inch thick. If the slices of mozzarella are larger than the tomatoes, cut the mozzarella slices in half. Layer the tomatoes alternately with the mozzarella on a platter and scatter the basil on top. Sprinkle lightly with salt and pepper and drizzle lightly with olive oil. Serve at room temperature.

Serves 6.

Print This Recipe