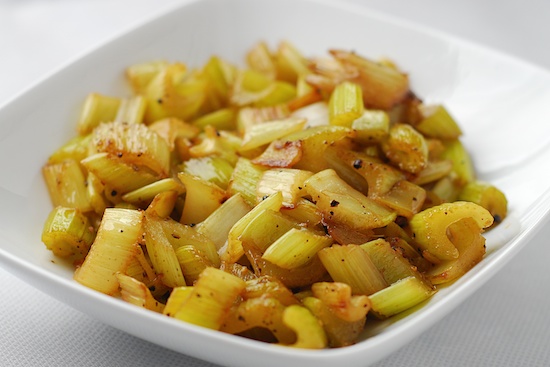 I can't tell you how many times I've thrown away extra celery that has gone bad in my refrigerator.   I typically buy it to make either chicken salad or shrimp salad or something like that, and I never use up all of it.   I always intend to go back and use the rest of it, but inevitably it gets buried in the bottom of my vegetable drawer and I don't find it again until it's way beyond it's prime.   When I was thinking about what to make for dinner yesterday, I opened the vegetable drawer hoping to find something to cook, because it was raining and I didn't fell like running to the store.    The celery was calling my name.   I wasn't sure what I was going to do with it, but I knew I either had to figure something out, or I'd have to walk to the store in the rain.   Was it Plato that said,  'necessity is the mother of invention'?    It was braised celery for us last night!
When I searched for recipes, they had to have celery as their primary ingredient, and I also had to have all of the other ingredients in the house.   This recipe won hands down.   In addition, it got quite a few great reviews, so I figured it was worth a shot.   I'm so glad I made it.  It had a lot of flavor and as an added bonus, it used up my celery AND I didn't have to leave the house!   We ate all of it last night with dinner.    My boys wouldn't touch it, but my 6-year old niece Allie had dinner with us and she loved it.   I'm hoping that her eating habits will rub off on the boys one of these days.
I didn't have beef broth in the house, but I did have a beef bullion cube, so I used that to make the beef broth.    I'm guessing that real beef broth would have been better, but the bullion cube certainly did the trick.   This is now my go-to recipe for using up leftover celery.  I wish I had found it years ago.
Braised Celery
Recipe by Alton Brown


8 stalks celery, rinsed and trimmed, leaves chopped and reserved
1 tablespoon unsalted butter
Pinch kosher salt
Pinch freshly ground black pepper
1/2 cup good quality beef stock or broth

Peel any of the fibrous outer stalks of celery with a vegetable peeler and slice into 1-inch pieces on the bias.

Heat the butter in a 10-inch saute pan over medium heat. Once melted, add the celery, salt and pepper and cook for 5 minutes until just beginning to soften slightly. Add the beef broth and stir to combine. Cover and reduce the heat to low. Cook until the celery is tender but not mushy, approximately 5 minutes. Uncover and allow the celery to continue to cook for an additional 5 minutes or until the liquid has been reduced to a glaze. Transfer to a serving dish and garnish with the reserved leaves.

Yield: 4 servings

Print This Recipe