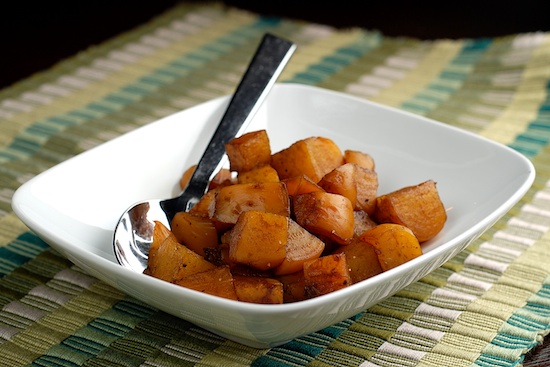 Looking for a new and different way to prepare beets? Are you a fan of balsamic vinegar? If so, this is the recipe for you, and it's really simple. It's a nice way to dress up beets a little bit.
I love beets. As a child (much like my own children), I used to hate them because I thought they tasted like dirt. I remember my grandmother serving them a lot. I don't know when I went from hating them to loving them, but I'm hoping that whatever happened to me with beets, happens to my boys for the multitude of things that they won't eat.
I love the glaze on these beets. It gives them a nice little tang.
I used golden beets for the recipe, but red beets will work just as well. I didn't have any fresh thyme sprigs, so I put a half teaspoon of dried thyme in the balsamic honey mixture while it was heating. I strained it before I added it to the beets. To cook my beets, I boiled them with their skin on until they were soft when pierced with a knife. Once cooked, the skin rubs right off. No need to peel them with a knife.
Beets in a Sweet Thyme Balsamic Glaze
Recipe from Wonderland Kitchen

5 small beets, various colors, boiled, peeled, and cubed
4 Tablespoons balsamic vinegar
4 fresh thyme springs
1 teaspoon honey

Place vinegar, thyme, and honey in a small sauce pan. Simmer until honey is dissolved, thyme is fragrant, and vinegar is somewhat reduced. Remove thyme sprigs and drizzle sauce over beets. Sprinkle dish with salt and pepper and toss to coat.

Yield: 3 servings

One year ago: High Tea Lemon Cookies
Two years ago: Cinnamon Applesauce Muffins
Three years ago: Lemon Risotto
Four years ago: Lemon Cake

Print This Recipe