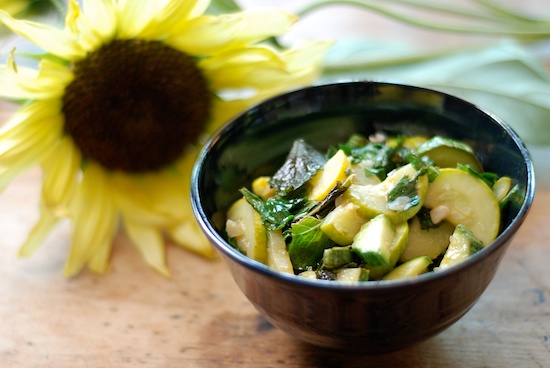 On Shelter Island, if you don't get to the pharmacy early on Sunday morning there's a good chance you won't get a Sunday Times.   I didn't get there early enough this past Sunday, so I ended up with a copy of the Wall Street Journal.   I haven't read the Journal in a long time, and it doesn't seem very different from the Times these days.  I was surprised.   The paper had a nice Living section from which this recipe came.   I found a couple of others I'd like to try as  well.    This one was really delicious.   The combination of the fresh mint from our garden and the squash, garlic and parsley from the CSA made a really healthy and delicious side dish.   Fresh mint is key.
This recipe truly only makes enough for two as a side, so if you like your vegetables and want to serve more than 2, I recommend that you double or triple the recipe.
NB: I just made this with lime juice. I didn't have any lemons on hand. It's quite delicious with lime too.
Summer Squash with Lemon and Mint
Recipe adapted from  Tender: A Cook and His Vegetable Patch by Nigel Slater, as seen in the Wall Street Journal

1 to 2 small zucchini or summer squash (about 14 ounces)
2 cloves garlic
3 tablespoons olive oil
½ cup fresh mint leaves
½ cup flat leaf parsley leaves
Juice of ½ lemon
Sea salt to taste

Cut the squash in half lengthwise, then slice those halves into segments approximately ½-inch thick.

Peel the garlic and chop it coarsely. Warm olive oil in a shallow pan, then add the garlic, letting it fry for a minute over medium heat.

Add the squash to the pan and cook, turning the segments occasionally, until they are lightly golden and tender, about 5 minutes. Then, sprinkle the mint and parsley leaves over the squash, increase the heat, pour in the lemon juice and let the mixture bubble briefly. To serve, dress with a simple crumbling of sea salt.

Yield:  2 servings as a side dish

One year ago: Strawberry Lemonade with Agave Nectar
Two years ago: Strawberry Lemonade
Three years ago: Fusilli and Chicken with Finger-Licking Peanut Sauce

Print This Recipe