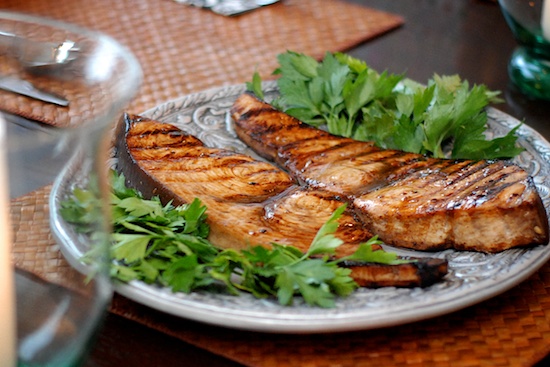 My dad came into the city on Sunday and he loves swordfish, so I picked some up at the farmer's market. We are lucky to have a vendor from the Hamptons that sells fresh fish every weekend. This swordfish was caught the day before I bought it and it was incredible.
This marinade came from my college friend Danielle. My mother has been using the recipe for years and loves it. I rediscovered the marinade this past weekend and I'll use it a lot this summer. It adds a nice flavor to the fish. I cooked my swordfish on a grill pan in my apartment, but if you have access to an outdoor grill – it will be that much better.
Cooking fish can be a bit tricky because it's easy to overcook it, so you should stay near the stove or the grill while it's cooking. It cooks very quickly, and it will still cook a bit when you take it off the flame/fire, so you want to cook it until it's almost done, then let it finish cooking on the plate. When fish is done, it will flake nicely, so when you think it's done, take a knife or a fork and try to flake the fish. If it comes apart nicely, it's ready.
Once the fish is on the grill or in the pan – leave it for 2-4 minutes without touching it, then flip it to finish cooking. If you're cooking on an outdoor grill, leave the cover open when cooking fish.
When you marinate the swordfish, make sure you don't marinate it for more than 20 minutes. This would be a great marinade for chicken also.
Marinated Swordfish

1/2 cup peanut oil
1/4 cup fresh lime juice (~2 – 3 limes)
3 tablespoons balsamic vinegar
1/4 teaspoon sesame oil
3 tablespoons soy sauce
2 slices ginger (or 1/2 teaspoon crushed ginger)
1/2 teaspoon crushed garlic
pepper, to taste
2 pounds swordfish steaks

Put all of the ingredients into a ziplock bag and mix. Put swordfish into the bag with the marinade. Turn the bag to make sure the fish is covered in marinade. Marinate in the refrigerator for 20 minutes (and no more.)

Oil the grill/grill pan. Heat the grill/grill pan until hot but not smoking. Cook the swordfish from 2 – 4 minutes on each side until cooked through.

Yield: 4 – 5 servings

One year ago: Irish Cream Caramel Cheesecake
Two years ago: Roasted Tomato Caprese Salad
Three years ago: Blueberry Coffee Cake Muffins


Print This Recipe