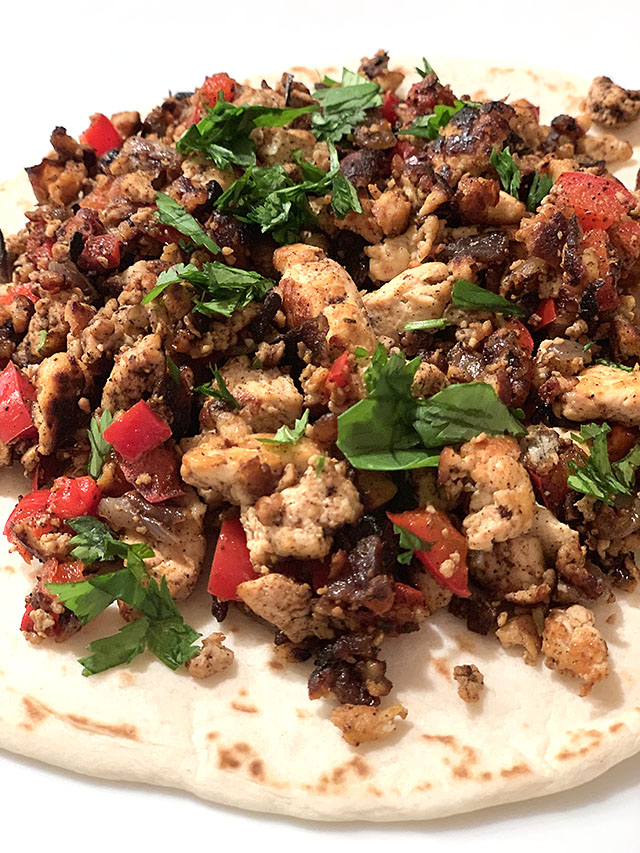 I have made these tacos quite a few times now. They're part of our regular dinner rotation. My vegetarian son LOVES them, and I have to say that I do too. I don't even notice that they're meatless. The tofu, when shredded and browned, is somewhat similar to ground meat, and once it's covered in spices and mixed with vegetables and herbs, and topped with some fresh lime juice, you barely notice the difference.

This is definitely a meal that can be made on a weekday evening because it's fairly quick to cook. I highly recommend using a non-stick skillet. The tofu browns really nicely in one.

The original recipe calls for corn tortillas. Not being a huge corn tortilla fan, I can attest to the fact that the taco filling is delicious in flour tortillas. The recipe also calls for heating the tortillas in the oven. When I'm in a rush, heating the tortillas in the microwave works fine for me.





"Chorizo" Tacos
Recipe by Mark Bittman

Eight 6-inch corn or flour tortillas
2 tablespoons olive oil
1 small red onion, chopped
1 tablespoon chopped garlic
1 teaspoon salt
1 ⁄ 2 teaspoon pepper
1 1 ⁄ 2 pounds firm tofu (1 1 ⁄ 2 blocks)
1 red bell pepper, chopped (optional)
1 tablespoon chili powder
2 limes, 1 halved, 1 quartered
1 ⁄ 4 cup chopped fresh cilantro, for garnish
1 ⁄ 4 cup chopped scallions, for garnish

Heat the oven to 400°F. stack the tortillas on a large square of foil and wrap them loosely.

Put the oil in a large non-stick skillet over medium-high heat. add the onion and garlic; sprinkle with the salt and pepper. Cook, stirring occasionally until the vegetables soften, 3 to 5 minutes.

Crumble the tofu into the pan with your hands. Cook, stirring and scraping the bottom of the skillet occasionally, and adjusting the heat as necessary, until the tofu browns and crisps as much or as little as you like it, anywhere from 10 to 30 minutes.

When the tofu is almost ready, put the tortillas in the oven.

Add the bell pepper to the pan if you're using it. sprinkle the mixture with the chili powder; stir, and cook, continuing to scrape any browned bits from the bottom of the pan until the mixture is fragrant, less than a minute. squeeze the juice of the halved lime over all, garnish with cilantro and scallions, and serve with the tortillas and lime quarters.

Yield: 4 servings



One year ago: Tomato and Feta White Bean Salad
Two years ago: Farro and Roasted Red Pepper Salad
Three years ago: Pistachio-Crusted Cod Fillets
Four years ago: Secretly Healthy Fudge Balls
Five years ago: Brigadeiros (Brazilian Fudge Balls)
Six years ago: M&M's Cookie Bars
Seven years ago: Kale with Bacon and Cannellini Beans
Eight years ago: Orange Sherbet
Nine years ago: The Ultimate Chocolate Cupcakes
Ten years ago: Sugar Cookie Bars
Eleven years ago: Chick Pea Soup



Print This Recipe