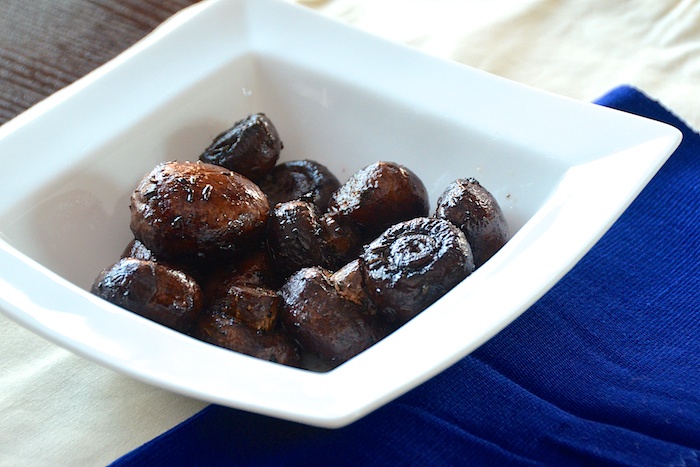 Anyone who knows me will be very surprised to see a mushroom recipe posted on Stylish Cuisine, for I hate mushrooms.   I don't like the feel of them nor do I like the taste.  I think they're incredibly slimy and I also think they taste like dirt.  Yuck!  Yuck!  Yuck! Why did I make these?   Our neighbor gave us a box of crimini mushrooms.  I couldn't let them go to waste, and anyway, my husband is a mushroom fan.  This recipe seemed easy (and it was!), and I had all of the ingredients on hand.
Once cooked, I had to try the mushrooms to set a good example for the boys.  I told them that I really disliked them, but that I was going to try them anyway, just to make sure.  I'm not sure my little show had any impact on the boys, but it was worth a try. They had no interest in joining me.
My husband gave these a thumbs-up and ate them all.
Sauteed Crimini Mushrooms
Recipe by Rachel Ray

1 tablespoon extra-virgin olive oil
2 tablespoons butter
1 1/2 pounds crimini mushrooms, rinsed and gently rubbed with a towel to remove dirt
Salt and pepper
3 tablespoons fresh thyme leaves, chopped
1/2 cup dry red wine
2 tablespoons chopped fresh parsley leaves

Heat a large skillet over medium high heat. Add extra-virgin olive oil and butter. Turn the pan to coat. Add mushrooms and season with salt, pepper and thyme and cook 15 minutes until evenly browned and tender. Add wine to deglaze the pan. Add parsley and transfer mushrooms to a serving dish.

Yield: 4 – 6 servings

One year ago: Chewy Chocolate Chip Cookies
Two years ago:
Three years ago: Braised Celery
Four years ago: Tuna Salad with Cranberries

Print This Recipe