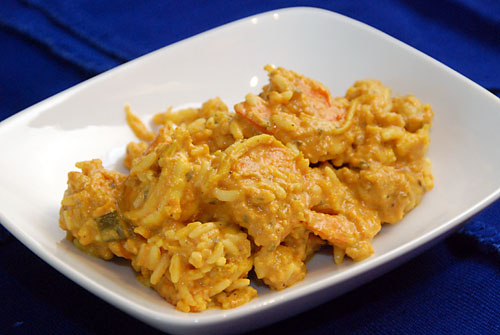 My cousin Danielle is taking an Integrative Nutrition class in NY so she'll be visiting us once a month for the next six months.   It's a nice treat for us to see her because she lives in DC and we typically only see her a couple of times a year at big family gatherings.   She was visiting recently on a Saturday night and we decided to try a new recipe.    We both enjoy Indian food, so we decided to try this recipe, which ended up being delicious.   It was a bit of work to prepare, but well worth the effort.   We had a lot of fun cooking together.  We opened a nice bottle of wine and had a great time talking while we prepared the meal.    My husband and I look forward to her next visit, and so do the boys – they really enjoy playing with her.
I'm going to try this recipe with chicken next.  I think it'll be great.   It's also great for leftovers.   I originally served it over rice, but mixed the rice right in for the second go around.
Shrimp with Spiced Masala and Coconut Milk
Adapted from Bon Appetit,  September 2001

Masala

2 tablespoons vegetable oil
2 cups chopped onions
4 large garlic cloves, minced
1 1/2 teaspoons garam masala
1 1/2 teaspoons curry powder
1 1/2 teaspoons ground coriander
1 teaspoon turmeric
1/2 teaspoon cayenne pepper
1 28-ounce can diced tomatoes in juice
1 cup plain whole-milk yogurt

Shrimp

2 tablespoons vegetable oil
2 pounds uncooked large shrimp, peeled, deveined
1 13 1/2-ounce can unsweetened coconut milk
1/2 cup chopped fresh cilantro
1/4 cup chopped green onion tops
1 1/2 tablespoons fresh lemon juice
1 head cauliflower, cut into florets and steamed
1 can Goya chick peas

For masala:
Heat oil in large nonstick skillet over medium heat. Add onions; sauté until deep golden, about 20 minutes. Add garlic and all spices; stir 1 minute. Cool to lukewarm. Puree tomatoes with juices and yogurt in processor until almost smooth. Add onion mixture; puree until almost smooth. Season masala to taste with salt and pepper. (Masala can be made 1 day ahead. Cover and refrigerate.)

For shrimp:
Heat oil in heavy large deep skillet over medium-high heat. Add shrimp and sauté until partially cooked, about 2 minutes. Stir in coconut milk, cilantro, green onions, lemon juice, chick peas, cauliflower and prepared masala. Simmer until shrimp are opaque in center, about 3 minutes longer. Season to taste with salt and pepper and serve.

Serves 5.

Print This Recipe