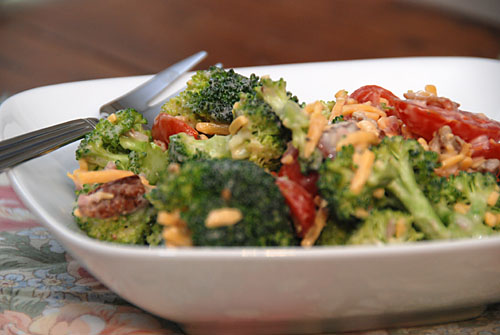 I went to the farmer's market in my neighborhood the other day and they had beautiful heads of broccoli.  I bought one and then searched for something to do with it.  In the past I've steamed it, boiled it, roasted it and turned it into soup, but I don't have a go-to broccoli recipe, so I continued my search.   My search is over!   I made this recipe three times in four days and I'm going to make it again today.   I LOVE this broccoli salad.   I'm looking at the picture now, and I must say that the picture doesn't really do this salad justice.   I think it tastes much better than it looks.   I brought a double batch of it to my book club meeting the other night and everyone had seconds or thirds.  
Broccoli is a great vegetable to eat for many reasons.   It's loaded with vitamin C, vitamin A, vitamin K, folic acid and soluble fiber.   It also contains a number of cancer-fighting nutrients with really long names that prevent many types of cancer.  You can read about them here.
This salad is on the sweet side, so if you don't like sweet dressing on your salads, this one is not for you.  I think it makes a perfect lunch, and it has also made a perfect dinner for me this week.
Broccoli Salad
Adapted from recipe by Paula Deen

Salt and freshly ground black pepper 
1/4 cup sugar 
1 small box of cherry or grape tomatoes, halved 
2 tablespoons apple cider vinegar 
8 ounces grated sharp Cheddar cheese 
3/4 cup mayonnaise 
1/2 cup finely chopped red onion 
1/2 cup roughly chopped pecans
6-8 slices cooked bacon, crumbled 
1 head broccoli 

Trim large leaves off broccoli. Remove tough stalks at end and wash broccoli thoroughly. Cut flowerets and stem (if you care to use the stem) into bite-size pieces. Place in a large bowl. Add crumbled bacon, onion, tomatoes, pecans and cheese. In a small bowl, combine remaining ingredients, stirring well. Add to broccoli mixture and toss gently.   Salt and pepper to taste.

Yield:  6 to 8 servings 

Print This Recipe