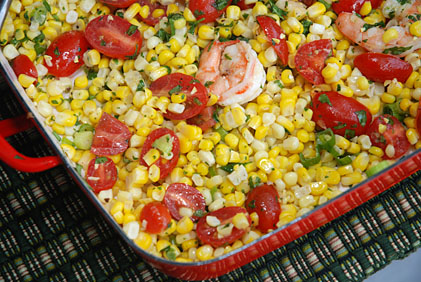 This is a perfect end-of-summer recipe when corn-on-the-cob is fresh and plentiful.   I was having a bunch of friends over for lunch several weeks ago and I didn't feel like grilling, so I made a couple of salads; this fresh corn with shrimp and cherry tomato salad and a chicken salad with apple and basil.  They were both terrific!
I love shrimp, so when I made this recipe, I actually added two pounds of shrimp and the ratio seemed right if you're a big shrimp fan.   If you're more of a corn fan, I'd only add a pound of shrimp as described in the recipe.   In my opinion, using fresh corn added a lot to this recipe.  It's so naturally sweet and delicious.   And the corn on Long Island was particularly good this year.
This is summer eating at its best.
Fresh Corn with Shrimp and Cherry Tomatoes
From Real Simple

4 tablespoons olive oil
6 cups corn kernels, cut from 6 medium ears
1 pound medium shrimp, peeled and deveined
2 tablespoons fresh lemon juice
1 tablespoon red wine vinegar
2 cups cherry tomato halves (or 2 medium tomatoes, seeded and diced)
1 cup thinly sliced scallions
1/2 cup chopped fresh cilantro leaves

Heat 3 tablespoons of the oil in a large, nonstick skillet over medium heat. Add corn and cook, covered, 5 minutes, stirring occasionally. Add shrimp and cook just until shrimp turns pink, about 3 minutes. Remove from heat and transfer to a large bowl. Allow to cool slightly. Whisk together remaining tablespoon of oil with lemon juice and vinegar; and salt and freshly ground pepper to taste. Drizzle over corn and shrimp and toss with tomatoes, scallions, and cilantro leaves. Serve at room temperature or chilled.

Serves 6 to 8

Print This Recipe