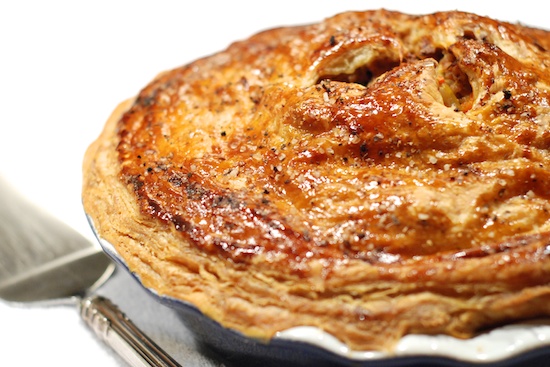 This recipe could have been called Meat, Cheddar and Potato Pie, because I have made it with both beef and turkey.  I think it's equally good with both.   I really should have taken a picture of the inside of this pie.  It's a big pile of meat and vegetables wrapped in delicious puff pastry – comfort food at its best!   I have made this a number of times now and I love it every time I make it.  My husband really looks forward to it also   The boys, well I'll let you guess.  OK, go ahead and guess how many of my boys liked it.   Zero.  Right.   OK, now guess how many I got to try it.  Right again.  Zero.   I really need to figure out how to change this.   Any and all suggestions are welcome.
When I made this recipe, I substituted some herb salt for the regular salt and I thought it was a nice addition, especially when I used the ground turkey, which I think has less flavor than beef.   The recipe calls for adding some salt to the top of the puff pastry.   I recommend either skipping this step entirely, or using less salt, unless you like things on the salty side.
This is going to be a winter staple in our house, even if my husband and I are the only ones that eat it.  It's that tasty.
Beef, Cheddar and Potato Pie
Recipe adapted ever so slightly from Rachel Ray Magazine, November 2009

2 pounds ground beef or ground turkey (see note above)
2 carrots, cut into 1/4-inch cubes
1 large onion, cut into 1/4-inch cubes
2 stalks celery, cut into 1/4-inch cubes
1 large clove garlic, finely chopped
1 large baking potato, peeled and cut into 1/4-inch cubes
1/2 cup dark beer (I used amber)
12 ounces sharp cheddar cheese, shredded
Salt and pepper
2 sheets frozen puff pastry, thawed but cold
1 large egg yolk, beaten with 1 tablespoon water

Preheat the oven to 375°. In a skillet, combine the meat, carrots, onion, celery, garlic and potato and cook, breaking up the meat, over medium-high heat until the beef is cooked through and some liquid has evaporated, about 15 minutes. Lower the heat to medium, add the beer and cook for 10 minutes. Add the cheese, 2 teaspoons salt and 1/2 teaspoon pepper. Let cool.

On a floured surface, roll 1 puff pastry sheet into a 12-inch round. Place in a 10-inch skillet or deep pie dish. Roll the remaining puff pastry sheet into an 11-inch round. Using a slotted spoon, transfer the meat mixture to the skillet. Lightly brush the edge of the crust with some of the egg wash, then place the second sheet on top. Press the edges to seal, then trim to a 1/2-inch edge.

Place the pie on a baking sheet. Brush the top with more of the egg wash and cut an "X" into the pastry. Sprinkle with 1 teaspoon salt (I found that this extra salt made the dish a bit salty, so I recommend that you leave this salt out unless you like things on the salty side) and 1/2 teaspoon pepper. Bake for 45 minutes, tenting with foil if the crust darkens too quickly. Transfer to a rack to cool for 15 minutes.

Bake the pie up to 1 day ahead, then reheat in a 350° oven for 20 minutes.  You can also reheat this in the microwave, but the puff pastry will lose all of its flakiness and become soggy.  It will still taste great though.

Yield:  8 servings

One year ago: Mexican Chocolate Tofu Pudding
Two years ago: Blueberry Muffins

Print This Recipe