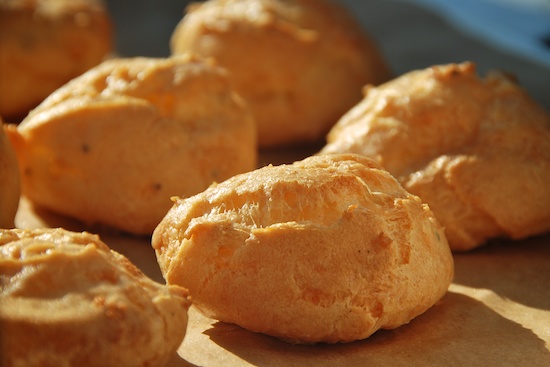 My mother sent me this recipe the other day.   These cheese puffs are a popular French hors d'oeuvre and a specialty of the Burgundy region of France.   They're typically made with Gruyere cheese which is one of my favorites for cooking (and eating!)   I'm told they go well with a nice glass of red wine.
These are excellent when they're warm out of the oven, and they're even good at room temperature the next day.   I ate six of them with my lunch today and they were delicious.
I thought the boys would like these.   They like most carbohydrates, and they like Cheese-Its, so I figured I couldn't go wrong with these.   Wrong!   Not one of them liked them, and I have no idea why.   These things are delicious!   Do you think the boys will ever learn?
I'm making another batch of these the next time we have company.  They're easy to make and they look very attractive piled up on a platter.
French Gougères
Recipe from Viking River Cruises website

1 1/2 cups water
1 1/2 cup butter, cut into cubes
1 1/2 cups flour (unbleached, all-purpose)
6 large eggs
1 cup (packed) grated gruyère cheese
1/2  cup (packed) good-quality parmesan
1/2 teaspoon fresh ground pepper
1/2 teaspoon salt

Place one rack in top third and a second in the bottom third of oven; preheat to 400°F.  Line two rimmed baking sheets with parchment paper, lightly greased with non-stick cooking spray.
In a 3- to 4-quart pan over medium heat, bring the water, butter and salt to a simmer, stirring until the butter melts. Add flour all at once, and stir rapidly with a wooden spoon until mixture is a smooth, thick paste with no lumps. Remove pan from heat and allow mixture to cool. Using a hand-held mixer (I used an immersion blender), beat in one egg at a time until all are incorporated. Stir in cheese and pepper.

Using a tablespoon or a small ice cream scoop, drop 48 equal mounds of dough onto parchment-lined baking sheets, spacing each mound three inches apart. Bake until dough is puffed, and looks dry and golden brown, about 30 minutes. Halfway though cooking, reverse the positions of the baking pans.  You can also use a pastry bag to pipe the dough if you prefer.

Yield:   48 puffs

Print This Recipe