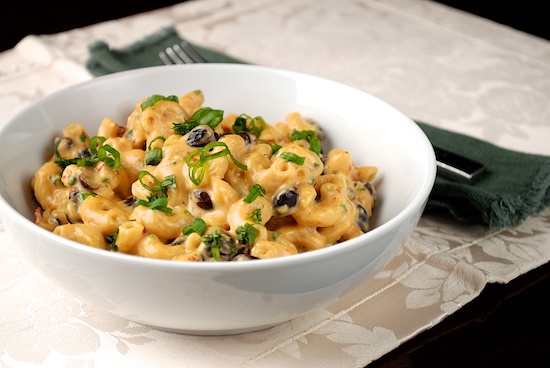 This is my new, favorite macaroni and cheese recipe.   I could eat this every day for a week without getting sick of it, and I almost have, considering I made a lot of it and the boys won't touch it.   It's great fresh from the stove, and it's great as a leftover as well.  When you reheat it, and I've been reheating mine in the microwave, it doesn't separate like some other cheesy dishes do.
There's no need to make a roux or bechamel sauce for this recipe, the evaporated milk and cornstarch do the trick.   Mixed with the melted cheese, they make a nice gooey sauce.
If you follow the recipe as written, you'll end up with a nice, spicy dish.  If you don't like things very spicy, you can back off on the chipotle peppers, or you can remove the chipotle seeds before you chop the peppers.
I didn't have a jalapeno or serrano pepper on hand, so I skipped it.  Next time, I'll make sure I have one on hand to use.  I think it will add nicely to the dish.
This is going to be added to our regular dinner rotation.  It's really delicious!  If you like macaroni and cheese, make this tonight!

Macaroni and Cheese with Black Beans and Chipotle
Recipe from Serious Eats

2 teaspoons cornstarch
1 (12-ounce) can evaporated milk
2 eggs
1/2 pound elbow macaroni
1 (15-ounce) can black beans, drained and rinsed
2 whole chipotle chilis packed in adobo sauce, minced, plus 2 tablespoons adobo sauce from the can
1 serrano chili or jalapeño chili, finely minced
6 ounces block American cheese, roughly grated or diced
6 ounces sharp cheddar cheese, roughly grated or diced
1/4 cup roughly chopped fresh cilantro leaves and tender stems
4 finely sliced scallions

Combine cornstarch, evaporated milk, and eggs in a medium bowl and whisk until homogenous. Set aside.

Cook pasta in a large stock pot in salted water according to package directions. Drain, reserving 1 cup pasta cooking water. Return to stock pot and add cooking water, beans, chipotle chilies, serrano or jalapeño, evaporated milk mixture, and cheeses. Cook over low heat, stirring constantly, until cheese is melted and sauce is creamy and smooth. Stir in cilantro and scallions, reserving some for garnish. Transfer to serving bowl, top with remaining cilantro and scallions, and serve immediately.

One year ago: Oreo Rice Krispie Treats
Two years ago: Homemade Cheez-It Crackers
Three years ago: Breakfast Tart with Pancetta and Green Onions
Four years ago: Banana Oatmeal Chocolate Chip Cookies
Five years ago: Oatmeal Cranberry Cookies

Print This Recipe