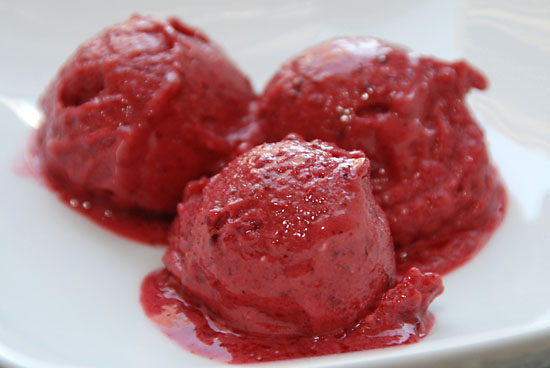 The weather  in NY has been ridiculously warm these last couple of days.   It's like summer.    And there's nothing better in the summertime than cold sorbet!    I know I always say this, but this recipe is incredibly easy.    If you have frozen berries in your freezer and a food processor (you don't even need an ice cream maker for this), you can have fresh sorbet in a matter of minutes.
I have two friends, Peter and Natasha, that independently made this sorbet and they were very pleased with the results.   Thanks to Balducci's going out of business, I had two bags of frozen, mixed berries in my freezer so I made a batch of this yesterday after lunch.  I can't tell you how pleased I was with myself.   I mean, it really made me happy.    It was so simple and so good.
If you'd like to see Mark Bittman making this sorbet, click here.   I have to say, he makes everything look so easy.   If you don't have his cookbook How to Cook Everything, I highly recommend it.   It's one of my go-to cookbooks in the kitchen.
This is one of those recipes that you can doctor to suit your own taste, or to use up what you have in the refrigerator.  I had some extra sour cream and some vanilla yogurt, both of which I used in this sorbet.   You MUST try this.   If you try this with something other than berries, please let me know.   I'd love some suggestions for new flavors.
Please note that this makes a rather rustic sorbet.  By rustic, I mean that it still has the berry seeds in it.   The texture didn't bother me at all, but I don't want you to expect a sorbet with the consistency of the ones that you buy in the supermarket that have been strained.
June 2009 Update: I made both peach sorbet and pineapple sorbet today and both were delicious. I also made cherry sorbet (yum!) into which I put small shavings of bittersweet chocolate. I actually served it to some friends who came over for dinner recently and they all loved it!
Berry Sorbet
Recipe by Mark Bittman

~2 cups frozen berries
~ 1/2 cup yogurt (or sour cream)
~1/4 cup sugar (or to taste)
~2 Tablespoons water

Put berries, yogurt and sugar into the bowl of a food processor and begin to pulse.   Add the water and pulse until you get the consistency you want.   Don't over process or you'll end up with a smoothie.

Yield:   ~ 1 pint of sorbet

Print This Recipe