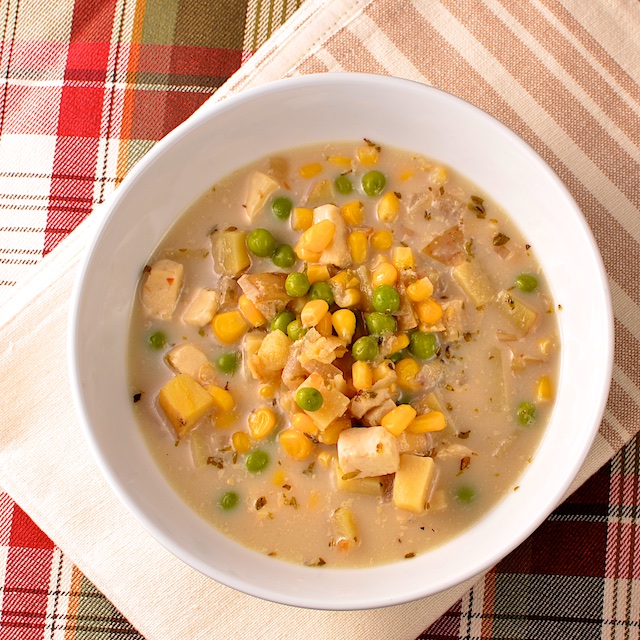 I have never cooked with queso fresco before. I saw some in Costco the other day, so I picked up a package. I bought 2 eight-ounce blocks, so you'll probably see another cheese recipe or two before I use it up. Queso fresco (or "fresh cheese"), is mild, mellow and a bit salty and a bit buttery. If you're not a feta fan, this would be a good, slightly more mild substitute.
This soup was delicious. It's a traditional Equadorian soup that's light but filling. It can be served as an appetizer or as a light main course. I enjoyed the little bites of chewy cheese that accompanied the chunky vegetables. If you like a slightly spicier soup, you can up the red chili flakes.
This is a nice soup for a cold winter night. My husband and I both loved it. The boys, not so much.

Andean Potato and Cheese Soup (Locro de Papa)
Recipe from thekitchn.com

Olive oil
1 yellow onion, diced
1 1/2 pounds (about 4 fist-sized) all-purpose potatoes, diced
2 cloves garlic, minced
2 teaspoons dried oregano
Pinch dried chile flakes (or to taste)
4 cups chicken or vegetable stock
2 ears ripe corn, kernels sliced off (or 2 cups frozen corn)
1 cup fresh or frozen peas
6 ounces (1 well-rounded cup) queso fresco, cubed
1 cup whole milk
Salt
Pepper

Warm a teaspoon or two of olive oil in a large pot (at least 5 quarts) over medium-high heat. Add the onion and cook until translucent and just starting to turn golden-brown, 5 to 8 minutes. Add the potatoes and 1/4 teaspoon salt, and cook until the edges of the potatoes are beginning to soften, another 5 minutes.

Clear a space in the middle of the pan and add the garlic, oregano, and cayenne. Cook until the garlic is fragrant, about 30 seconds, then stir into the onions and potatoes. Add the stock to the pan and bring to a boil. Reduce heat to medium-low, and simmer the soup until the potatoes are tender, 10 to 15 minutes.

Add the corn kernels, peas, queso fresco, and milk to the soup. Bring back to a simmer (do not boil) and cook until the corn and peas are tender, another 5 minutes. Taste and add salt and pepper as needed.

Yield: 6 – 8 servings

Two years ago: Mini Hot Cocoa Cookies
Three years ago: Granola
Four years ago: Quick Chick Pea Curry
Five years ago: Cauliflower and Caramelized Onion Tart
Six years ago: M&Ms Cookies
Seven years ago: Chick Pea Salad with Lemon and Parmesan

Print This Recipe