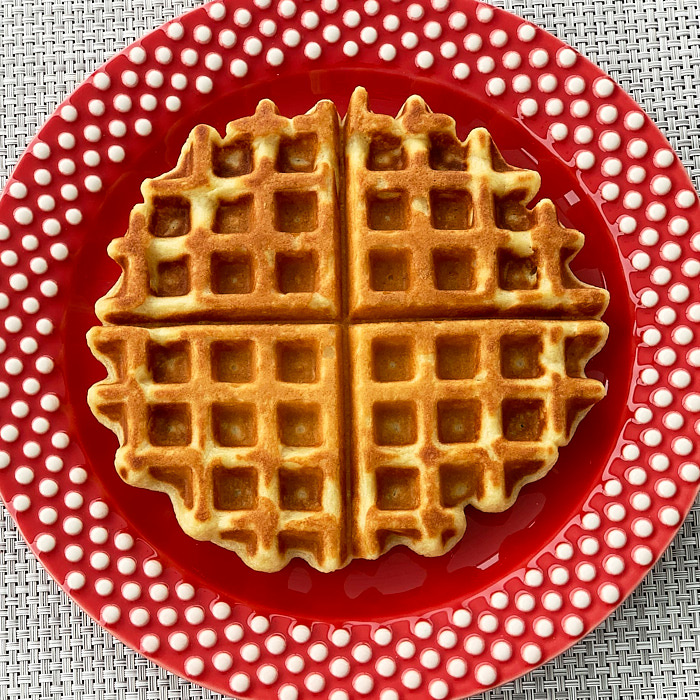 I know I've said this before, but these are REALLY my sons' favorite waffles. It was a unanimous vote. This will now be my go-to waffle recipe for the boys.

The recipe calls for pastry flour OR all-purpose flour. I have only ever used all-purpose. Pastry flour is supposed to make them a bit lighter. The original recipe calls for optionally adding either pecan meal or almond flour for flavor. I didn't have any, so I skipped it. I tossed a couple of chocolate chips into one batch, which the boys enjoyed.

With other waffle recipes that I make, you have to separately whip th egg whites. I love that this recipe doesn't require that. The batter is a bit thicker than other waffle batters I have used, and I found that they took a couple of extra minutes to cook. The resulting waffles have a crispy exterior and almost a chewy interior.

If you don't have buttermilk on hand, you can easily make your own using milk and either vinegar or lemon juice.
Classic Buttermilk Waffles
Recipe from King Arthur Flour

2 large eggs
1 3/4 cups buttermilk
8 tablespoons (1 stick) butter, melted, cooled
2 teaspoons vanilla extract
2 cups pastry flour or 1 3/4 cups all-purpose flour
2 tablespoons sugar*
2 teaspoons baking powder
1 teaspoon baking soda
1 teaspoon salt

*leave out the sugar if you want savory waffles, for chicken and waffles, for instance

In a medium-sized mixing bowl, beat together the eggs, buttermilk, melted butter, and vanilla.

In a separate bowl whisk together the dry ingredients.

Combine the wet and dry ingredients, stirring just until nearly smooth; a few small lumps may remain.

Spray your waffle iron with a non-stick cooking spray before preheating it. Cook waffles according to the manufacturer's directions. For an 8″ round waffle iron, use about 1/3 cup batter; cook for 2 to 3 minutes, or until the waffle iron stops steaming.






One year ago: Ultranutty Pecan Bars
Two years ago: Oatmeal Raisin Cookies
Three years ago: Cocoa Buttermilk Breakfast Biscuits with Brown Sugar Cinnamon Butter
Four years ago: Salted Caramel and Chocolate Rice Krispies Squares
Five years ago: Chocolate Crinkle Cookies
Six years ago: Chocolate Sugar Cookies
Seven years ago: English Muffin Bread
Eight years ago: Peppermint Chocolate Chip Sugar Cookies
Nine years ago: Salt 'n' Vinegar Roasted Potatoes
Ten years ago: Weeknight Bolognese
Eleven years ago: Krumkake
Twelve years ago: Mahogany Beef Stew with Red Wine and Hoisin Sauce

Print This Recipe