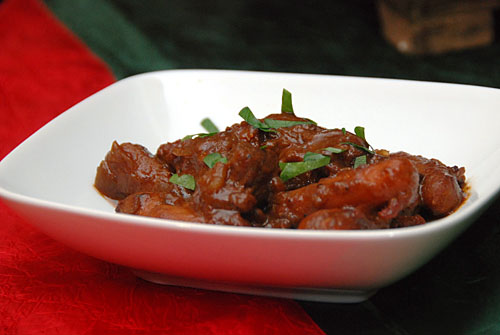 I love a good beef stew when the weather is cold.  Especially when the meat is tender enough to cut it with a fork.   I love this beef stew because the hoisin sauce (which is a Chinese dipping sauce and can be found in the Asian section in your local supermarket) gives it a great flavor.
In the picture above, the stew is in a bowl by itself, which is awfully delicious, but sometimes I like to serve it over egg noodles.
This is a good dish to cook if you want something simmering on the stove for a while, because it takes a couple of hours to complete since it cooks on low for a long time.   The longer you cook this, the more tender the meat becomes.    If you think you're finished cooking the recipe and the meat is a bit tough, keep cooking it on low.  The meat should eventually get so soft that you can easily cut it with a fork.
I usually make this recipe on the stove, but have occasionally made it in my crock pot which works just fine.  If you want to cook it in a crock pot, you still need to brown the meat and onions in a pan.    Once you add the liquid to the recipe, the whole thing can be thrown into the crock pot.   Your home will smell great while this is cooking!
Mahogany Beef Stew with Red Wine and Hoisin Sauce
Adapted from Bon Appetit, February 2002

4 tablespoons olive oil
3 1/2 pounds boneless beef chuck roast, trimmed, cut into 2 1/2-inch pieces
3 1/2 cups chopped onions
2 cups Cabernet Sauvignon
1 14.5-ounce can diced tomatoes with Italian herbs, undrained
1/2 cup hoisin sauce
2 bay leaves

1 pound slender carrots, peeled, cut diagonally into 1-inch lengths
1 tablespoon cornstarch mixed with 1 tablespoon water
2 tablespoons chopped fresh parsley

Heat 2 tablespoons oil in heavy large pot over high heat. Sprinkle meat with salt and pepper. Add meat to pot in batches; sauté all of the meat until brown on all sides, about 10 minutes per batch. Put meat in a separate bowl.  If there is a lot of liquid left in the pan, dump it.  Reduce heat to medium; add 2 tablespoons of oil to pot. Add onions; sauté until golden brown, about 15 minutes. Mix meat into onions. Add 1 cup wine, tomatoes with juices, hoisin sauce, and bay leaves. Bring to boil.

Reduce heat to low, cover pot and simmer 45 minutes, stirring occasionally. Add carrots and 1 cup wine. Cover; simmer 30 minutes, stirring occasionally. Uncover, increase heat to high; boil until sauce is slightly thickened, stirring occasionally, about 45 – 60 minutes longer. Reduce heat to medium, add cornstarch mixture and simmer until sauce thickens, stirring occasionally, about 8 minutes. Discard bay leaves. Season stew with salt and pepper. (Can be made 1 day ahead. Cool slightly. Chill uncovered until cold, then cover and keep refrigerated. Bring to simmer before serving, stirring occasionally.) Transfer stew to large bowl. Sprinkle with parsley; serve.

Yield:  8 servings
[print_link}