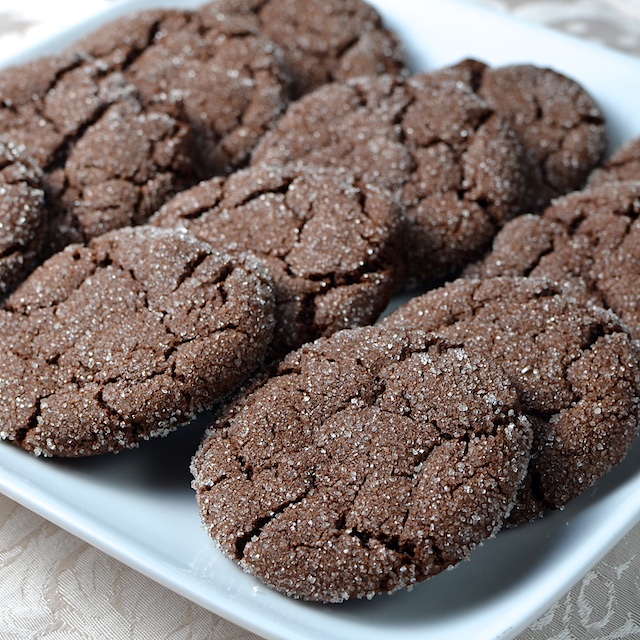 I have made these three times in the last two weeks. I like them because they have a great chocolate flavor, they're very easy to make, and I always almost have all of the ingredients on hand. I made them for a bake sale at the boys' school recently and I was told that everyone loved them. I certainly loved that ones that I ate. When they're baked, they remain every so slightly chewy in the center, which I like. They're not a crisp cookie. They're also not overwhelmingly sweet.
When I made these, I didn't roll the balls of dough in sugar as stated in the recipe. I made a ball out of the dough, flattened it a bit and dipped just the top in sugar. This worked perfectly for me. I didn't need to sprinkle any extra sugar on top either.
Give these cookies a try. If you're sending cookies to someone for the holidays, consider these. They're a sturdy cookie that should travel well.
Chocolate Sugar Cookies
Recipe from Cooks Country, May 2013 via Table For Two

1/3 cup granulated sugar
1 1/2 cups plus 2 tbsp. all-purpose flour
3/4 cup unsweetened cocoa powder
1/2 tsp. baking soda
1/4 tsp. baking powder
14 tbsp. unsalted butter
1 3/4 cups packed dark brown sugar
1 tbsp. vanilla extract
1/2 tsp. salt
1 large egg plus 1 large yolk

Preheat oven to 350 degrees Fahrenheit. Line two baking sheets with parchment paper or silicone baking sheets. Place granulated sugar in a shallow dish and set aside. Combine flour, cocoa, baking soda, and baking powder in a bowl. Whisk to combine.

Microwave 10 tbsp. butter, covered, in a large bowl until melted, about 1 minute. Remove from microwave and stir in remaining 4 tbsp. of butter until melted. Allow butter to cool, about 5 minutes.

In the bowl of a stand mixer with the paddle attachment, mix brown sugar, vanilla, salt, and melted butter together until no lumps remain. Add in the egg and yolk and mix until smooth. Gently add in the flour mixture and mix until just combined.

Working with 2 tbsp. of dough at a time, roll balls in granulated sugar and divide between baking sheets. Using a bottom of a drinking glass, flatten cookies to 2 inches in diameter. Sprinkle each sheet of cookies with 1½ tsp. remaining granulated sugar if desired (n.b. I skip this step).

Bake 1 sheet at a time until cookies are slightly puffy and edges have begun to set, about 10 minutes, rotating sheet halfway through baking (cookies will look slightly underdone between cracks). Let cookies cool on sheets for 5 minutes, then transfer to wire rack. Let cookies cool completely before serving.

Store in an airtight container for up to 5 days.

One year ago:   Asian Quinoa Salad
Two years ago: Malted Chocolate Madeleines
Three years ago: Ground Turkey Shepherd's Pie
Four years ago: Shortbread Candy Bars
Five years ago: Joanna Pruess' Molasses Spice Cookies
Six years ago: Cheddar Apple Frittata

Print This Recipe