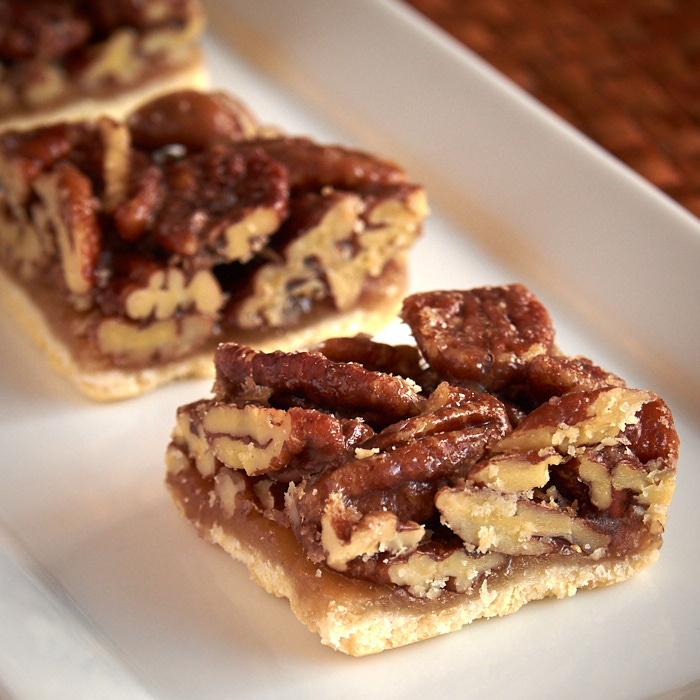 I made these for Thanksgiving this year and they were a big hit. They are like pecan pie without all of the gooey, sweet filling. They're heavy on the pecans and light on the filling, baked on a shortbread crust. If you're a pecan lover, this recipe is for you.

Just before I started to post the recipe, I received a call from one of my uncles – the one that hosts Thanksgiving for us each year. This year, he and my aunt hosted 62 of us. Yes, that's correct, 62! We all eat in one sitting and everyone is at a table that looks like it was set by Martha Stewart. Tables are set up all over their house. It's really unbelievable and so much fun!

My uncle called to ask who had made the pecan bars. He said they were his favorite Thanksgiving dessert this year and that he'd be happy to have them again next year. He said if you stick them in the microwave for 15 seconds they're unbelievable.

We are blessed with an amazing family that is incredibly close. I look forward to Thanksgiving every year. It's my favorite holiday. We have much for which to be grateful.
Ultranutty Pecan Bars
Recipe from Brown Eyed Baker

For the crust:
1 3/4 cups all-purpose flour
6 tablespoons granulated sugar
1/2 teaspoon salt
1/2 cup unsalted butter (melted)

For the topping:
3/4 cup light brown sugar
1/2 cup light corn syrup
7 tablespoons unsalted butter (melted and still hot)
1 teaspoon vanilla extract
1/2 teaspoon salt
4 cups pecan halves, toasted ((1 pound))
1/2 teaspoon flake sea salt (optional)

Adjust oven rack to lowest position and preheat to 350 degrees F. Spray a 9×13-inch pan with non-stick cooking spray and line with parchment paper.

Make the Crust: In a medium bowl, whisk together the flour, sugar, and salt. Add the melted butter and stir with a wooden spoon until a dough begins to form. Using your hands, continue to combine until no dry flour remains and a small portion of dough holds together when squeezed in the palm of your hand. Evenly scatter tablespoon-size pieces of dough over the surface of the pan. Using your fingertips, press and smooth dough into even layer in the bottom of the pan; set aside.

Make the Topping: In a medium bowl, whisk together the brown sugar, corn syrup, melted butter, vanilla, and salt until smooth and completely incorporated. Fold the pecans into the sugar mixture until the nuts are evenly coated.

Pour the pecan topping over the crust and, using a rubber spatula, spread the topping over the crust, working it to the edges and into corners (there will be bare patches). Bake until the topping is evenly distributed and rapidly bubbling across entire surface, 23 to 25 minutes.

Transfer the pan to a wire rack and lightly sprinkle with flake sea salt, if using. Let bars cool completely in the pan, about 1 1/2 hours. Cut into 24 bars and serve. The bars can be stored at room temperature in an airtight container for up to 5 days.

Yield: 24 bars


One year ago: Oatmeal Raisin Cookies
Two years ago: Loiusa's Cake
Three years ago: Pumpkin Lentil Soup
Four years ago: Chocolate Crinkle Cookies
Five years ago: Mallobars
Six years ago: Sweet Potato-Sausage Soup
Seven years ago: Marcus Samuelsson's Spiced Coconut Lentil Soup
Eight years ago: Rosemary-Lemon Sandwich Cookies
Nine years ago: Weeknight Bolognese
Ten years ago: Chocolate Malted Whopper Drops
Eleven years ago: Mahogany Beef Stew with Red Wine and Hoisin Sauce

Print This Recipe