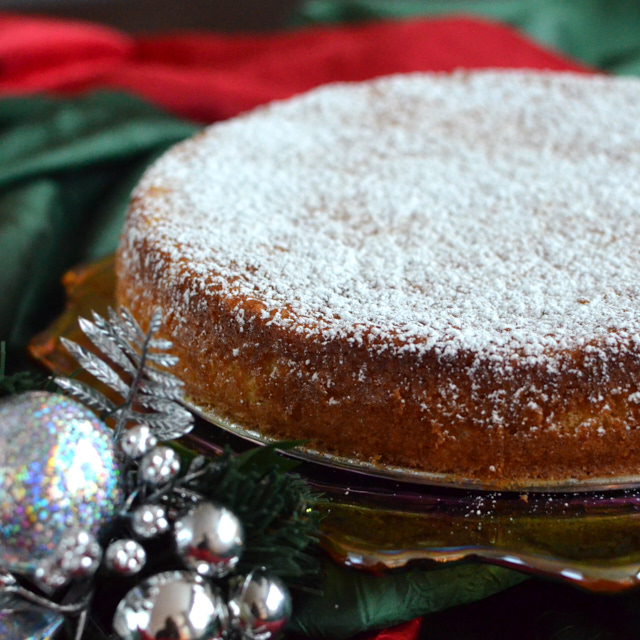 I made this cake the other day on a lark. It was described as a cake that could be served for breakfast so I made it for the boys. As is typical with many new things I make, the boys were skeptical that it was loaded with vegetables. I assured them that it wasn't, but they weren't buying it. Eventually a couple of them tried it and liked it. When one of the boys heard that it had ricotta cheese in it, he patently rejected it. That left more for the rest of us.
This cake is very moist and the flavor and texture reminded me of a pound cake. You don't need much of it to be satisfied. It's also not overly sweet. Perhaps it's considered a breakfast cake because it has an apple grated into it? This is one of those cakes that improves with time so you can definitely make it a day ahead of when you want to serve it. This is ideal for brunch, dessert or with a cup of tea.
If you notice that it's starting to get really browned on top, cover it with a piece of aluminum foil for the remainder of the baking time.
Louisa's Cake
Recipe from Food52

9 tablespoons unsalted butter, softened
1 cup plus 2 tablespoons sugar
3 large eggs
1 1/4 cups all-purpose flour
1 pinch salt
1 cup fresh ricotta
Zest of 1 lemon
1 Tablespoon baking powder
1 apple, peeled and grated (should yield roughly 1 cup)
Confectioners' sugar for serving

Heat the oven to 400° F. Butter and flour a 9- or 10-inch springform pan.

Cream the butter and sugar in a stand mixer until light and fluffy (this should take at least 5 minutes – you really want this mixture to be light and fluffy.) On the lowest speed, add the eggs one at a time. Slowly add the flour, salt, ricotta, lemon zest, baking powder, and apple. Scrape the batter into the prepared pan, smooth the top and rap the pan on the counter a couple of times. Bake for 30 to 35+ minutes, until the cake is golden brown and the sides start to pull away from the pan.

Cool in the pan on a rack for 10 minutes. Remove the sides of the pan and cool the cake completely on the rack. Sift confectioners' sugar over the top or serve with seasonal fruit.

Yield: 6 servings

One year ago: Pumpkin Lentil Soup
Two years ago: Chocolate Crinkle Cookies
Three years ago: Mallobars
Four years ago: English Muffin Bread
Five years ago: Rich Chocolate Brownies
Six years ago: Chocolate-Peppermint Thumbprints
Seven years ago: Cauliflower and Parmesan Cake
Eight years ago: Krumkake
Nine years ago: Peppermint Brownies

Print This Recipe