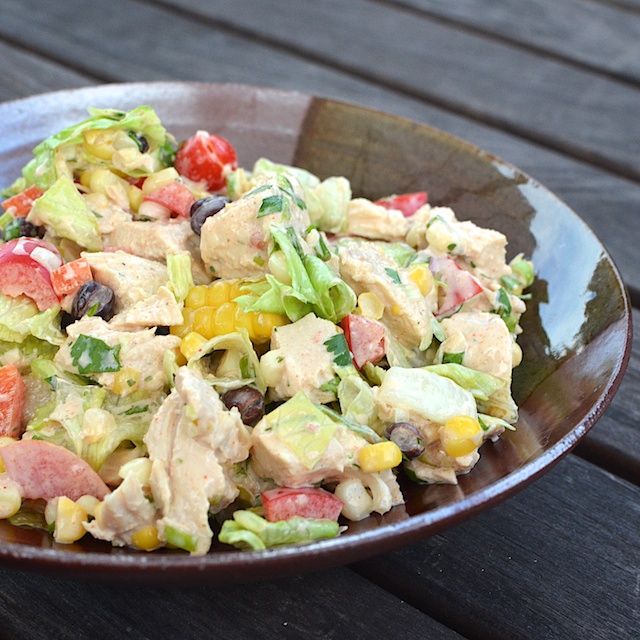 I love a good chopped salad that you can eat as a main course. I adore all of the fresh ingredients and  that the recipes tend to be very forgiving. You can toss in a little more of this or a little less than that without jeopardizing anything. You can even swap ingredients. For example, you can use any type of crunchy lettuce that you like in this salad, iceberg, romaine, you can use any color bell pepper, etc.
When I made this recipe, we had leftovers.  I worried that they'd be soggy the next day.  The leftovers were surprisingly delicious, but I learned something. When making this, only put tortilla chips on the bowls of salad that you're serving. Don't add the  chips to the serving bowl in case you don't eat it all.  You want crunchy tortilla chips on each bowl.
I poached chicken breasts for this recipe, then shredded them. If you're short on time, pick up a rotisserie chicken.
I made this salad before I realized that Ranch Dressing mix has MSG in it. Next time I make this, I'm going to make my own MSG-less Ranch Dressing mix.  I'll share the recipe if it's good.
Southwestern Chopped Chicken Salad
Recipe from Greens & Chocolate

2 cups shredded, cooked chicken
1 red, orange or yellow bell pepper, diced
1 can black beans, rinsed
1 cup frozen corn, thawed
2 roma tomatoes, diced
4 green onions, sliced
1 head crunchy lettuce of your choice, washed and chopped
1/4 cup cilantro, chopped
2 ripe avocados, diced
1 cup crushed tortilla chips

Dressing:
1/2 cup mayonnaise
2/3 cup Greek yogurt
1 Tablespoon ranch seasoning
1 Tablespoon taco seasoning

In a large bowl, combine all salad ingredients together, excluding the tortilla chips.

In a small bowl stir all dressing ingredients together.

Pour dressing over salad, starting with about half of the dressing. Toss to combine, then gradually add more dressing until it is dressed to your liking. Top with tortilla chips.

Yield:  4 main-course servings



One year ago: Green Bean Salad
Two years ago: Minty Quinoa Tabbouleh
Three years ago: Roasted Red Peppers with Basil Oil
Four years ago: Very Green Broccoli Soup
Five years ago: Ham and Swiss Puff Pastry Quiche

Print This Recipe