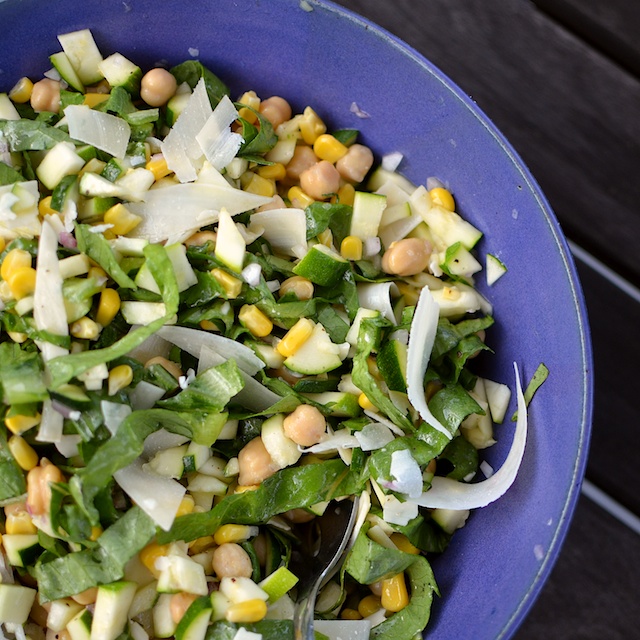 But for a little chopping, this is a very simple salad to make. It's light and fresh and a perfect addition to a summer meal. The dressing is very light, but tasty. I made the mistake of serving this with a shrimp orzo dish that had a lot of feta in it, so this salad was very, very mild in comparison. Next time I'll serve it with something less bold so it has a chance to shine on its own.
We didn't finish it on the first day, and I was surprised to find out that it fared well overnight in the refrigerator. It was still great the next day. I was afraid that the whole thing would get soggy, but it didn't.
This is a great way to use up some of the zucchini that is so abundant this time of year. You can also substitute fresh corn rather than frozen, if you see any at the farmer's market. If you use corn from the cob, cook the corn before adding it to the salad.
Garbanzo Bean and Zucchini Salad
Recipe from Giada deLaurentiis

Vinaigrette:
2 tablespoons fresh lemon juice
1/4 cup extra-virgin olive oil
1/2 teaspoon salt
1/4 teaspoon freshly ground black pepper

Salad:
1 cup garbanzo beans
2 medium zucchini, diced into 1/4-inch pieces
1/2 cup frozen corn, thawed
1/2 small red onion, sliced very thinly and rinsed
5 romaine lettuce leaves, cut crosswise into 1/2-inch strips
1-ounce Parmesan, crumbled into 1/4-inch pieces (or strips of Parmesan)

In a small bowl, whisk together the lemon juice, olive oil, salt, and pepper until combined. This is the vinaigrette. Set aside.

Place the garbanzo beans, zucchini, corn, red onion, and lettuce in a large salad bowl. Pour the vinaigrette over the salad and toss well. Garnish with the Parmesan cheese and serve.

Yield: 4 servings

One year ago: Italian-Style Eggplant
Two years ago: Chocolate Chip Meringues
Three years ago: Spaghetti and Meatballs
Four years ago: Black Beans with Rice and Cheese

Print This Recipe