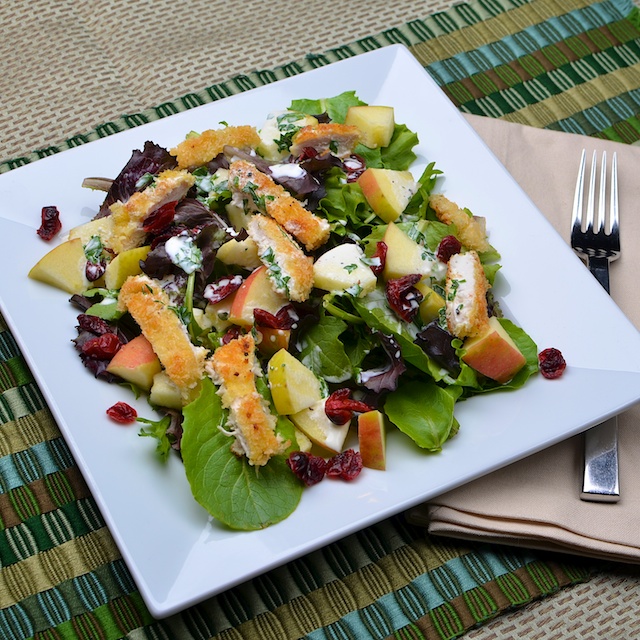 This is definitely a meal you can make on a busy weeknight. Cooking the chicken is what takes the longest, and you can get that done pretty quickly, especially if your chicken breasts are thin. I actually recommend that you buy thinly sliced boneless chicken breasts for this recipe, or if you don't buy those, slice your chicken breasts in half so they become thin.
This a great fall meal when apples are in abundance. I used Honeycrisp apples, which are my favorite. You can play with many of the amounts in the recipe, for instance if you really like apples, use more. I used half an apple on each salad. Instead of buying a head of red leaf lettuce, I bought a bag of mixed spring greens which were delicious. I was able to make four salads out of one bag of greens.
The buttermilk dressing is nice and mild. I thought it was delicious – a nice complement to the salad. My husband commented that it might have benefited from the addition of a little blue cheese. Did the boys try it? Nope. That said, one of them did eat some of the crispy chicken by itself. Another one of them had some of the apple by itself. No one tried it all together.   Maybe one day.
Crispy Chicken and Apple Salad
Recipe from Martha Stewart's Everyday Food, November 2011

1/4 cup all-purpose flour
Coarse salt and ground pepper
1 large egg
1 cup panko (Japanese breadcrumbs)
2 boneless, skinless chicken breasts (about 1 pound total)
2 tablespoons extra-virgin olive oil
1/4 cup buttermilk
2 tablespoons mayonnaise
1 tablespoon white-wine vinegar
1 tablespoon chopped fresh parsley
1 large head red leaf lettuce, torn into bite-size pieces (8 cups)
2 apples, such as Gala or Fuji, cored and cut into thin wedges
1/2 cup dried cranberries

On a plate, season flour with 1/4 teaspoon salt. In a shallow dish, whisk egg with 1 tablespoon water. On another plate, season panko with 1/2 teaspoon salt and 1/4 teaspoon pepper. Pat chicken dry. Slice each cutlet into two thin cutlets. Dredge chicken in flour, then dip in egg, letting excess drip off. Coat with panko, pressing gently to adhere.

In a large nonstick skillet, heat oil over medium. Add chicken; cook until golden brown and cooked through, 8 to 10 minutes total, flipping once. In a small bowl, whisk buttermilk, mayonnaise, vinegar, and parsley; season with salt and pepper. Arrange lettuce, apples, and cranberries on a platter. Slice chicken, add to platter, and drizzle with dressing.

Yield: 4 main course servings

One year ago: Beets in a Sweet Thyme Balsamic Glaze
Two years ago: High Tea Lemon Cookies
Three years ago: Cinnamon Applesauce Muffins
Four years ago: Lemon Risotto
Five years ago: Lemon Cake

[print0link]