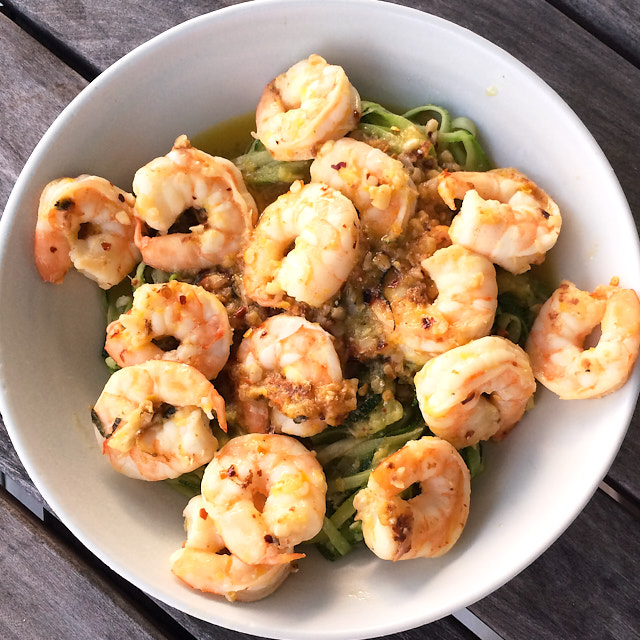 We have friends visiting from Atlanta and one of them prefers to avoid gluten, so I have been making some gluten-free dishes. As I mentioned in another post, I have found that Bob's Red Mill 1 to 1 Baking Flour is a very good substitute for regular flour. In lieu of flour in some of my favorite recipes, it has yielded great results. Now I wish I could find a good gluten-free pasta.
Our friend Chris bought me this hand-held spiralizer. I've read a lot about them but had never tried one. Having a lot of zucchini on the counter, I decided to spiralize some of it. Using the device that I have, spiralizing is much like sharpening a pencil. You put the zucchini in and spin it. The results are long strands, just like spaghetti. It can be served raw, or cooked. I decided to sauté it in a little butter and olive oil and turn it into a shrimp scampi dish. I thought it was delicious. The friends visiting all thought it was delicious too, except the ones that don't love zucchini. They ate the shrimp and left the squash. Did any of my boys try it? Nope. Despite that, I will definitely make this again.
The spiralizer is a lot of fun. I'm going to see what else I can spiralize.
Shrimp Scampi with Spiralized Zucchini
Adapted from Barefoot Contessa Family Style by Ina Garten
Vegetable oil
1 1/2 teaspoons Kosher salt
1-2 small/medium zucchini
3 tablespoons unsalted butter
2 1/2 tablespoons good olive oil
1 1/2 tablespoons minced garlic (4 cloves)
1 pound large shrimp (about 16 shrimp), peeled and deveined
1/4 teaspoon freshly ground black pepper
1/3 cup chopped fresh parsley leaves
1/2 lemon, zest grated
1/4 cup freshly squeezed lemon juice (2 lemons)
1/8 teaspoon hot red pepper flakes

Use your spiralizer to spiralized one or two small/medium zucchini.

In a large (12-inch), heavy-bottomed pan, melt one tablespoon of butter and one tablespoon of olive oil over medium-low heat. Add the zucchini and toss it in the pan for 2-3 minutes, until it becomes ever so slightly translucent or achieves the consistency you desire. Remove from the pan and place in a serving dish.

Add the remaining 2 tablespoons of butter and 1 1/2 tablespoons of olive oil to the pan. Add the garlic. Saute for 1 minute. Be careful, the garlic burns easily! Add the shrimp, 1 1/2 teaspoons of salt, and the pepper and saute until the shrimp have just turned pink, about 5 minutes, stirring often. Remove from the heat, add the parsley, lemon zest, lemon juice, and red pepper flakes. Toss to combine.

Pour the shrimp and its sauce over the cooked zucchini. Toss and serve immediately.


Serves 3

One year ago: Smooth and Creamy Polenta
Two years ago: Spring Root Vegetable Casserole
Three years ago: White Bean Burgers with Tomato-Olive Relish
Four years ago: Sprinkle Sugar Cookies
Five years ago: Summer Squash with Lemon and Mint
Six years ago: Ultimate Banana Bread
Seven years ago: Strawberry Lemonade
Eight years ago:
Fusilli and Chicken with Finger-Licking Peanut Sauce


Print This Recipe