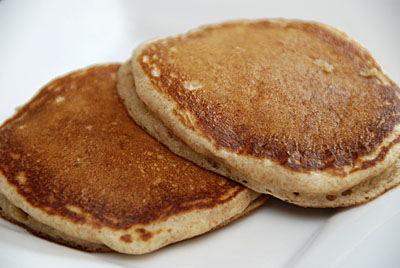 My sister sent me an email a couple of weeks ago titled, "These really are THE BEST!!!" I was intrigued. She went on to tell me about a batch of pancakes she had just made. She's never going to make pancakes any other way again, and neither am I. No more boxed mixes for me. These really are as easy to make as those boxes you buy – and these are much better. If you like a fluffy pancake, these are for you. The recipe came from a blog that I really enjoy reading called 101 Cookbooks.
I'm always drawn to new breakfast recipes because my boys love breakfast, and I enjoy cooking it. I especially love quick, easy recipes that I can make for the boys before they go off to school in the morning. This recipe definitely qualifies. The trick is to have all of the ingredients in the house. The one that most people typically don't have on hand is buttermilk. I now buy it whenever I see it because my boys ask for pancakes every morning now, and I make this recipe at least three times a week.
I find that there's an art to making pancakes. Here are a couple of pointers:
Don't put the batter in the pan or on the griddle until it's hot enough. You'll know that it's hot enough if drops of water "dance" when they're sprinkled on the hot pan.
Don't over-mix the batter. It should be lumpy. Definitely don't mix it like you'd mix cake batter.
Pancakes are best served warm. Keep cooked pancakes in a 200 degree oven until you have made the whole batch.
Turn the pancakes when you see bubbles on top of the pancakes. If your pan is at the proper temperature, this should coincide with the pancakes being golden brown on one side.
I cook the pancakes on a griddle so I can make 6 or 8 at a time.
I pour the batter onto the griddle using a 1/4 cup stainless steel measuring cup. This ensures that the pancakes will be roughly the same size.
Sometimes I have to turn the heat down when cooking the pancakes because the griddle gets too hot. If the griddle is too hot, the pancakes will get too dark before they're ready to be turned.
The original recipe on 101 Cookbooks includes what looks like a delicious blueberry syrup for the pancakes. Check it out.

Whole Grain Buttermilk Pancakes
Adapted from Heidi Swanson at 101 Cookbooks

2 cups whole wheat flour
1 teaspoon aluminum-free baking powder
1/2 teaspoon baking soda
1/3 cup granulated sugar
1/2 teaspoon fine grain sea salt
1/2 teaspoon vanilla extract
2 1/4 cups buttermilk
2 eggs, lightly beaten
2 tablespoons butter, melted

butter, to serve and for pan

To make the pancakes combine the flour, baking powder, baking soda, sugar, and salt in a large bowl. Add the buttermilk, eggs, vanilla and melted butter. Stir all the ingredients until they are just combined. Don't worry if the batter is a bit lumpy, you don't want to over mix.

Heat your skillet, pan, or griddle to medium-hot and brush it with a bit of butter. Test for the right temperature. If a drop of water dropped onto the pan starts to dance, you are in the ballpark. Pour about 1/4 of a cup of batter into the skillet. Wait until the pancake bottom is deep golden in color, then flip with a spatula and cook the other side until golden and cooked through. Repeat with the remaining batter.

Serve with a golden pat of butter.

Makes about 12 large pancakes, or dozens of silver-dollars – enough to feed a small crowd.