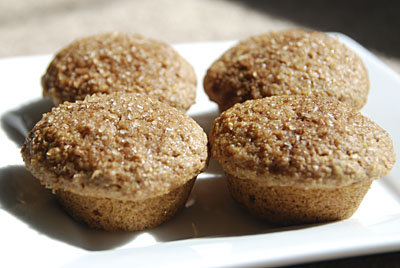 My four sons attended a cooperative preschool, which means that the parents are required to assist in the classroom. Last year all four boys attended the preschool, so my husband and I were "helping parents" about once a week. This may sound onerous but on the contrary, it was a wonderful opportunity for us to see our children in school and to really get to know their teachers and friends. It was so nice to be with them as they were introduced to school, and it made them feel special to have us in the classroom.
The responsibility of the "helping parent" is to assist in the classroom and to bring snack. Despite the fact that my boys are picky eaters, I still try to make healthy food so I started to bring muffins and fruit to class when it was my turn for snack. After a while, I became known for my muffins, primarily these bran muffins. I can't believe it has taken me so long to post this recipe. Almost all of the children gobble up these muffins every time I bring them. I make mini-muffins for the children and I have so send 48 to school at a time because they can each eat three. My son's teacher has to stop them, lest they not eat their lunch!
I found the recipe several years ago and the boys love it! I've doctored it a bit to get some some extra healthy ingredients into the boys, so I'll provide several variations – the original recipe, the recipe I use when I don't have buttermilk in the house, and the extra ingredients that I toss in at the end to make me feel like I'm getting SOMETHING good into the boys.
Buttermilk Bran Muffins
From The Healthy Oven Baking Book by Sarah Philips

Position a rack in the center of the oven and preheat to 350°. Lightly spray twelve 2 1/4 x 1 1/2-inch nonstick muffin cups, or 24 mini-muffin cups with oil.

In a medium bowl, whisk the bran, flours, baking soda, and salt until well combined. Set aside.

In another medium bowl, using a handheld electric mixer set at high speed, beat the buttermilk, sugar, applesauce, egg, oil and vanilla until frothy, about two minutes. Make a well in the center of the dry ingredients, and pour in the buttermilk mixture. Using a spoon, stir just until combined. Do not overmix.

Divide the batter equally among the prepared muffin cups. Bake until the tops spring back when pressed gently in the center, about 20 minutes. Do not overbake. Cool in the pan on a wire rack for 10 minutes before removing from the cups. Serve warm or cool completely on the rack.

** When I don't have buttermilk in the house, I substitute 3/4 cup of milk and 1/2 cup of vanilla yogurt for the buttermilk and the recipe works just fine.

When I make these muffins for preschool, I toss in 1 tbsp. of wheat germ and 1 tbsp. ground flax seed. I also sprinkle a bit of cinnamon and sugar on the tops of the muffins before I bake them.