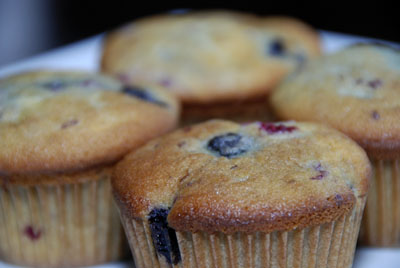 I love a good blueberry muffin, and this recipe is a great one. I just recently found it, so I haven't had the opportunity to make it during blueberry season which is July – October here in NY. I really look forward to taking the boys blueberry picking this summer so I can try the recipe with fresh berries. In lieu of fresh berries, frozen blueberries are an excellent substitution. I keep two bags in the freezer so I can make the muffins at the drop of a hat. This recipe works well with a mix of frozen blueberries and raspberries as well.
A couple of words about blueberries and their health benefits. They're loaded with antioxidants as well as vitamins C and E. They're actually one of the fruits with the highest levels of antioxidants. WebMD characterizes blueberries as one of the superfoods that everyone needs to eat. Pick some up and make a batch of delicious muffins!
Blueberry Coffee Cake Muffins
From Barefoot Contessa Family Style by Ina Garten

12 tablespoons (1 1/2 sticks) unsalted butter, at room temperature
1 1/2 cups sugar
3 extra-large eggs, at room temperature
1 1/2 teaspoons pure vanilla extract
8 ounces (about 1 cup) sour cream
1/4 cup milk
2 1/2 cups all-purpose flour
2 teaspoons baking powder
1/2 teaspoon baking soda
1/2 teaspoon kosher salt
2 half-pints fresh blueberries, picked through for stems


Preheat the oven to 350 degrees F. Place 16 paper liners in muffin pans.In the bowl of an electric mixer fitted with the paddle attachment, cream the butter and sugar until light and fluffy, about 5 minutes. With the mixer on low speed, add the eggs 1 at a time, then add the vanilla, sour cream, and milk. In a separate bowl, sift together the flour, baking powder, baking soda, and salt. With the mixer on low speed add the flour mixture to the batter and beat until just mixed. Fold in the blueberries with a spatula and be sure the batter is completely mixed.

Scoop the batter into the prepared muffin pans (I use my trusty ice cream scoop to do this), filling each cup just over the top, and bake for 25 to 30 minutes, until the muffins are lightly browned on top and a cake tester comes out clean.

Makes 16 muffins.