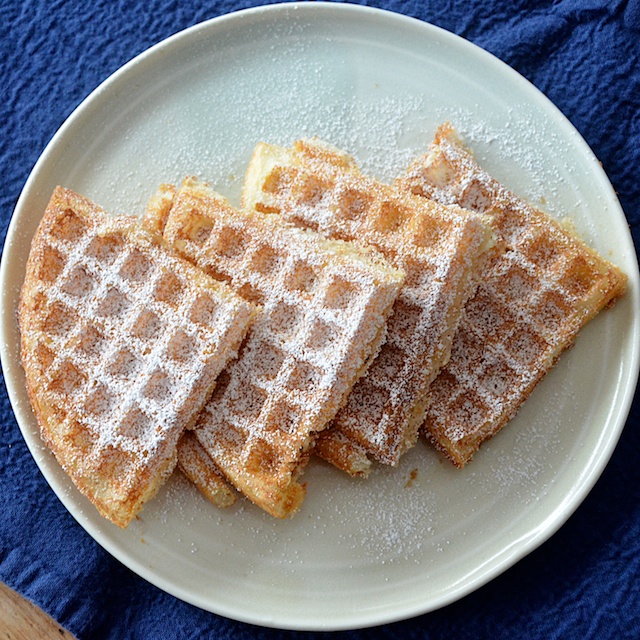 I often make waffles for the boys for breakfast. We have a Belgian waffle iron, and I have never been able to make a light and crispy waffle. The boys love the waffles that I make but I have never found them to be crispy enough. When I do try hard to make them crispy, they end up overcooked.
This recipe on the other hand makes a perfectly crispy waffle. They're crisp on the outside and light and airy on the inside. I loved them. I loved the flavor and I loved that they weren't terribly sweet. The fact that you can make the batter the night before is icing on the cake. It makes breakfast preparation a breeze.
The boys liked these, but they still prefer my original recipe. I prefer this one. Maybe it has a more grown-up taste. Who knows?  All I know is that I could have eaten a whole plate of these but didn't have a chance because the boys devoured them first.
I made these on Shelter Island where we have a regular waffle iron which produces waffles that are much thinner than the ones produced by our Belgian waffle iron at home. I'll give this recipe a try with our Belgian waffle maker to see if the waffles are still as crispy. I found the recipe in a book that I borrowed from the library called The Breakfast Book by Marion Cunningham. Even though the book didn't have any photos, it was loaded with great recipes and I might just have to add it to my cookbook collection.
Marion Cunningham's Essential Raised Waffles
Recipe from Marion Cunningham via Epicurious

1/2 cup warm water (warm to the touch from the tap, but not scorching hot)
1 package active dry yeast (2 1/4 teaspoons)
2 cups milk
1/2 cup unsalted butter, melted, plus more for serving
1 teaspoon kosher salt
1 teaspoon sugar
2 cups flour
2 eggs
1/4 teaspoon baking soda
Maple syrup, for serving

Pour the warm water into a large mixing bowl. This batter will rise to about twice its size, so you want the bowl to be large enough to accommodate it. Sprinkle the yeast over the water and let it sit for about 10 minutes. Yeast will become foamy. Next, add the milk, melter butter, salt, sugar, and flour. Mix until smooth and blended.

Cover the mixture with plastic wrap and leave it out on your kitchen counter overnight. In the morning, mix in the eggs and baking soda. The batter will look thin. Pour the batter (my waffle iron took ~1/2 cup per waffle) into a heated waffle iron. Cook until the waffles are golden and crisp.

Yield: ~8 waffles, but this can vary depending upon the size of your waffle iron

One year ago: Spicy Pickled Cucumbers
Two years ago: Vegetable Summer Rolls
Three years ago: Peach Sour Cream Waffles
Four years ago: Tart Lime Pops

Print This Recipe