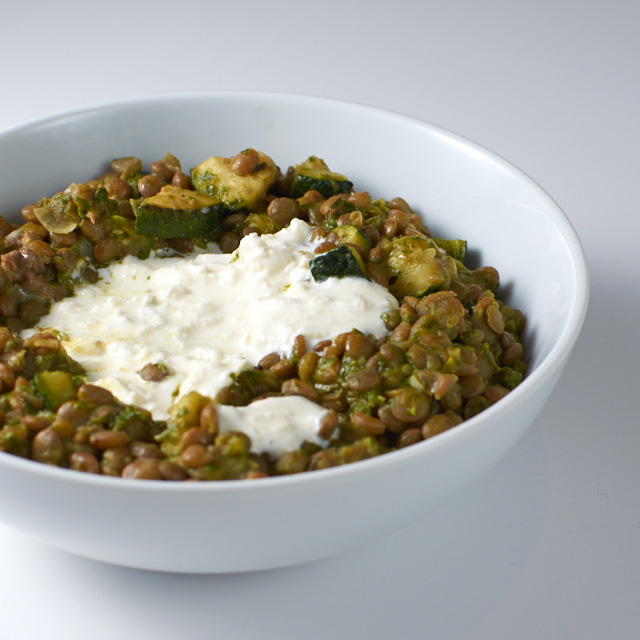 This is one of my all-time favorite vegetarian main dishes. It's perfect for Fridays in Lent or Meatless Mondays. It doesn't look like much in the photo, but it's packed with flavor from the homemade pesto-like sauce, and it's incredibly satisfying. I haven't found de puy lentils at any of my grocery stores, so I use whatever type of lentils I can find. I would like to try de puy lentils one of these days though, because they're supposed to be delicious.
If you are looking for burrata (which is like a soft, very creamy fresh mozzarella) that won't cost you an arm an a leg, look no further than Trader Joe's. They sell it in a plastic container, floating in water, in the refrigerated cheese section of the store. When you make this dish, you want to make sure the burrata is at room temperature when you put it onto the warm lentils. It will melt nicely that way.
If you want to add a little more color to this dish, which looks quite bland, I think, use a yellow squash instead of one of the zucchini. A splash of yellow is quite pretty in this dish.
I could eat this meal over and over and over. That said, I have made it quite a few times recently and I fear my husband is getting sick of it because of course, he and I are the only ones in the house who will eat it. The triplets are in high school now and still don't eat much of anything. Neither will the youngest one.
Burrata with Lentils and Basil Vinaigrette
Recipe from https://smittenkitchen.com/2016/08/burrata-with-lentils-and-basil-vinaigrette/

Lentils:
1 1/2 cups dried lentils de puy or other small green lentils
1 tablespoon olive oil
2 medium zucchinis (about 6 ounces each), diced
1 small or 1/2 medium onion, diced
Leaves from 3 fresh sprigs thyme
2 small or 1 large garlic cloves, minced
Salt and freshly ground black pepper

Basil Vinaigrette:
1 1/4 cups fresh basil leaves
2 teaspoons smooth Dijon mustard, plus more to taste
1 tablespoon plus 2 teaspoons red or white wine vinegar
6 tablespoons olive oil
Salt and freshly ground black pepper

2 large balls of burrata (or 4 smaller ones)
Sea salt and more black pepper
A few small basil leaves for garnish

Cook lentils: Pick over and rinse lentils. Place them in a medium saucepan and cover with 3 inches of cold water, seasoned well with salt. Simmer the lentils over medium heat for 25 to 30 minutes, until firm-tender. Drain and set aside.

Meanwhile, make vinaigrette: Blend basil, mustard and vinegar together in a food processor (I use my mini food processor). With machine running, drizzle in olive oil in a thin stream. Season well with salt and black pepper. You'll need to scrape the machine down a few times to get all of the leaves minced.

In a large frying pan, heat 1 tablespoon olive oil over medium heat. Add zucchini, onion, thyme, salt and pepper and cooking, stirring frequently, until softened and just barely picking up color, about 9 minutes. Add garlic and cook 1 minute more. Add cooked lentils back to pan and stir to mix and re-heat; you can add a splash of water if they're sticking. Adjust seasonings to taste.

Assemble: Transfer lentil-vegetable mixture to a large, wide serving bowl and stir in 3/4 of vinaigrette. Place intact burratas on top and then cut into quarters with a sharp knife so you don't miss any of the wonderful creaminess that spills out. The warmth of the lentils will melt it further. Drizzle with remaining vinaigrette, a few pinches of sea salt and several grinds of black pepper. Scatter basil leaves on top for garnish.

Yield: 6 servings

One year ago: Cabbage and Potato Gratin
Two years ago: Sour Cream Corn Bread
Three years ago: Easy Cold Sesame Noodles with Shredded Chicken
Four years ago: Cookies and Cream Cupcakes
Five years ago: Easy Black Beans and Rice
Six years ago: Avocado Fries
Seven years ago: Chocolate Pancakes
Eight years ago: Baked Shrimp Scampi
Nine years ago: Chicken Piccata

Print This Recipe