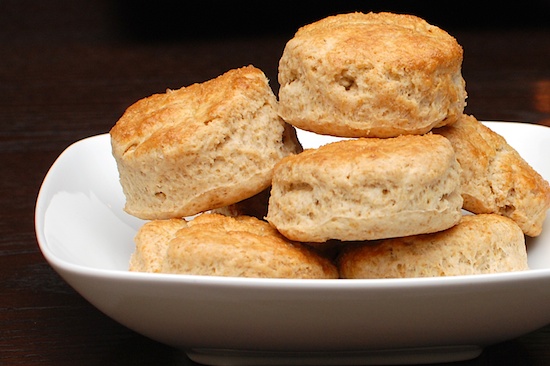 My boys are on a biscuit kick. They ask for them almost every night. If only I could get them to ask for a chicken dish, or something with good protein in it every night.
These biscuits are quite easy to make, especially if you have a stand mixer. You basically throw the ingredients into the stand mixer and turn it on for about a minute. Once the dough is together, flour your (clean) counter-top, roll out the dough, cut it into circles and bake. The process leaves your counter a little messy, but the biscuits are really delicious so I think it's worth it.
The original recipe called for 2 cups of white flour.   I make these  using half all-purpose, and half white, whole-wheat flour to make them a little healthier. My boys don't seem to notice, which is good. Trader Joe's and Whole Foods both sell white, whole-wheat flour.
The original recipe is from Ina Garten, and she called them chive biscuits. I haven't tried them with chives because most of my boys have an aversion to green food, but one of these days I'm going to sneak some in to see what happens because I happen to love chives. Wish me luck. Worst case, my husband and I will have to eat all of the biscuits. Worse things could happen.
Biscuits
Adapted from the Chive Biscuit recipe by Ina Garten

1 cup all purpose flour
1 cup of white whole wheat flour
1 tablespoon baking powder
1 teaspoon kosher salt
1 teaspoon sugar
1/4 pound (1 stick) cold unsalted butter, diced
3/4 cup half-and-half
1 egg mixed with 1 tablespoon water, for egg wash
Preheat the oven to 400 degrees F.

Put the flour, baking powder, salt, and sugar in the bowl of a stand mixer using the paddle attachment. Toss the butter in and mix on low speed until the butter is the size of peas. With the mixer is still running, pour in the half-and-half and beat until just mixed.

Put some flour on either a board or your clean counter-top. Place the dough on it and roll it until it's 3/4-inch thick. Using a cookie cutter, or a glass from your kitchen, cut the dough into circles that are approximately 2 1/2 inches in diameter. Put them on a cookie sheet lined with parchment or a silpat mat. Brush the biscuits with the egg wash. It will give them a nice sheen when baked.

Bake for 20 to 22 minutes, until the tops are browned. Serve warm.

Yield: 8 – 10 biscuits

Print This Recipe