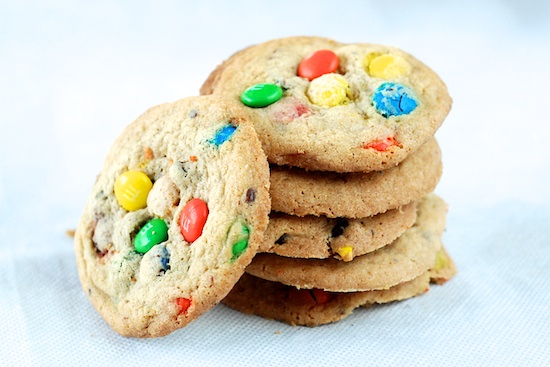 I just love cookies made with M&Ms. The recipe that I have been using for years was a little on the sweet side, but I still loved it. This recipe on the other hand is not quite as sweet. The cookie base has much less sugar in it, and consequently you can taste the cookie a lot more. You can even taste the salt in the cookie. My husband much prefers these to my original recipe, so I think this is my new go-to M&M cookie recipe. They stay chewy for a couple of days as well.
This is one of those recipes where the batter has to sit in the fridge until it's chilled, so please take that into account when you're making them. You'll need to make the dough at least an hour or so before you plan to bake the cookies.
When I made the cookies, I didn't use quite as many M&Ms as specified in the recipe because I thought it was overkill. I also saved some M&Ms to place on the soft cookies as soon as they came out of the oven. I thought they made the cookies look pretty.
The boys loved the fact that these cookies had BOTH chocolate chips and M&Ms in them. Truly a little kid's dream!
Chewy M&M Cookies
Recipe from Yammie's Noshery

1 cup butter, softened
1 cup brown sugar
1 large egg + 1 yolk
1 1/2 teaspoons vanilla extract
2 cups all-purpose flour
1/4 cup corn starch
1/2 teaspoon baking soda
1/4 teaspoon salt
1 12-ounce package M&M s Milk Chocolate Candies
1/2 cup chocolate chips

Beat together the butter and brown sugar until well combined. Beat in the eggs and vanilla. Mix together the flour, starch, soda, and salt. Add to the butter mixture and mix just until combined. Add the chocolate chips and the M&Ms (save some for the tops if you want to). Throw the dough in the refrigerator (over night is best, but at least until firm).

Preheat oven to 375ºF. Roll cookies to desired size (or use a small ice cream scoop to create the cookie dough balls) and place on ungreased baking sheet a couple of inches apart. Bake cookies for about 7-10 minutes or until the edges are golden brown. If you saved some M&M's, press them into the tops of the warm cookies as soon as they come out of the oven.  Let the cookies cool on the baking sheet for a couple of minutes, then move them to a wire rack to cool completely.

Two years ago: Nutella Ice Cream
Three years ago: Tofu and Onions in Caramel Sauce
Four years ago: Scallops Provencal

Print This Recipe