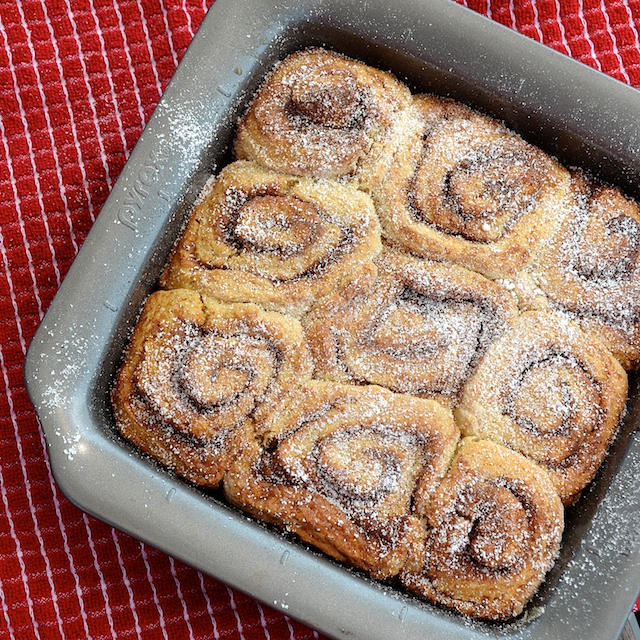 Made these cinnamon roll biscuits for breakfast. The boys love biscuits and they love cinnamon rolls, and these are a great combination. The boys loved them. One gave them a score of 21 on a scale of 1-10 and another gave them a score of 100. Same scale. Clearly math is not their strong suit. These rolls are not nearly as sweet as traditional cinnamon rolls. They are quite biscuit-like, which means that they're denser than your usual cinnamon roll. I found them really filling. With a side of fruit, they made a nice breakfast.
I loved this recipe because the dough was very easy to work with and there was no yeast involved, which meant no rising time.
I had soft jazz music playing when I made these this morning. With the music playing, the smell of the cinnamon buns filling the air and these buns next to a couple of bowls of beautiful summer fruit, my husband said I'd run a great bed and breakfast.
I didn't have unsalted butter when I made these, so I used salted butter. When you use salted butter in place of unsalted, decrease the amount of salt in the recipe by 1/4 teaspoon.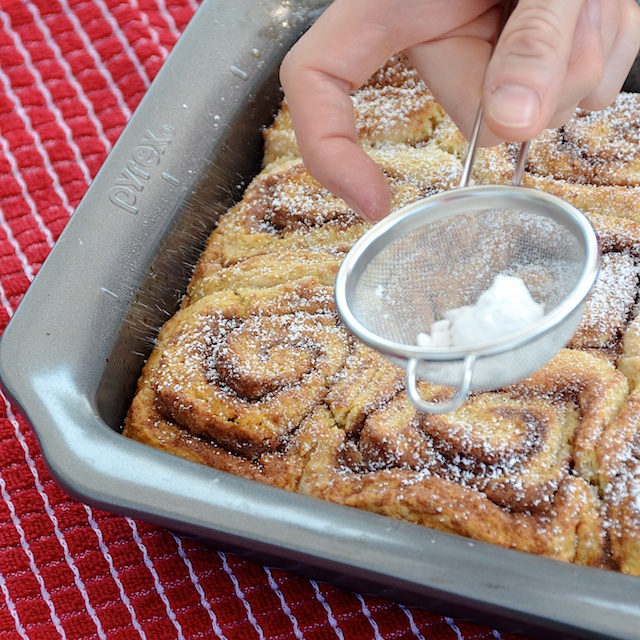 Biscuit Cinnamon Rolls
Recipe from Joy the Baker

For the Biscuits:
3 cups all-purpose flour (you may need a little more to get your dough to the right consistency)
2 tablespoons granulated sugar
3 teaspoons baking powder
1 teaspoon baking soda
3/4 teaspoon salt
1/2 cup unsalted butter, cold and cut into cubes (if you don't have unsalted butter, decrease the salt by 1/4 teaspoon)
1/4 cup vegetable shortening, cold and cut into cubes (if you don't have shortening you can substitute unsalted butter)
1 egg, beaten
3/4 cup buttermilk
1 teaspoon pure vanilla extract

For the Filling:
1/4 cup granulated sugar
1/4 cup light brown sugar
1 teaspoon ground cinnamon
1/8 teaspoon fresh ground nutmeg (optional)
pinch of salt

2 tablespoons unsalted butter, melted plus a bit more for topping the biscuits before baking

Confectioners sugar for dusting

Place a rack in the center of the oven and preheat to 400 degrees F. Grease a 8×8-inch square baking pan with butter and set aside.

In a small bowl, make the filling by mixing together sugars, spices, and salt. Set aside.

In a mixing bowl, sift together flour, sugar, baking powder, baking soda and salt. Cut in shortening and butter until mixture resembles a coarse meal. Use your hands to break the fat pieces into the dry ingredients. Some of the fat bits will be the size of peas and some fat bits will be the size of oat flakes. In another bowl, combine egg, milk, and vanilla, and beat lightly with a fork. Add the liquid to flour mixture all at once, stirring enough to make a soft dough. If your dough is too soft, continue to add flour, a tablespoon at a time, until the dough is able to be rolled.

Turn out onto a floured board and knead about 15 times. If the butter has warmed too much in the making of the dough, put it in the refrigerator for about 15 minutes until it firms up. If the dough is firm enough, shape the dough into a rough rectangle and, on a well floured surface, roll the dough into a rectangle that's a little less than 1/2″ thick, roughly 12″ by 10″.

Brush biscuit dough with melted butter. Sprinkle liberally with cinnamon sugar filling. Begin to carefully roll one vertical side into a fairly tight roll. Continue rolling until you have a biscuit cylinder. Pinch the seam closed. Using a sharp, floured knife, slice the log into 9 pieces, each about an inch thick. Place rolls, in prepared pan. Brush the tops with melted butter and bake for 13-15 minutes, until slightly golden brown on top.

Dust with confectioners sugar and serve warm.

Yield: 9 cinnamon rolls

One year ago: Grandma Gwen's Beans
Two years ago: Mocha Chocolate Ice Box Cake
Three years ago: Gina's Summer Tomato Pie
Four years ago: Mint Lemon-Limeade

Print This Recipe