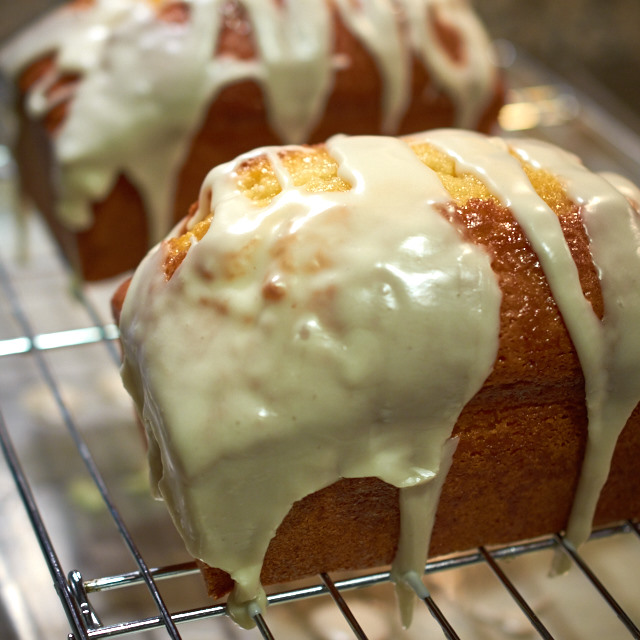 This recipe comes from a bookmark that I've had kicking around for a while. When I received a box of grapefruit as a gift, and we weren't eating them fast enough (although they keep well for a while in the refrigerator), I knew it was time to try this recipe.
One of my sons loved this cake. That said, I wouldn't exactly call it a cake. It seemed more like a quick bread to me. It didn't have a very fine crumb. That said, it's perfect with a cup of tea or coffee in the afternoon. It would also be a really nice addition to a brunch table. This is a great cake to make if you have extra grapefruit kicking around in your refrigerator.
I made this in two mini-loaf pans and although it looked like I had too much batter, it ended up being the perfect amount. The cake rose beautifully and didn't spill over the edges of the pans.
Grapefruit Yogurt Cake
Recipe from Smitten Kitchen, who adapted it from Ina Garten

1 1/2 cups (190 grams) all-purpose flour
2 teaspoons baking powder
1/2 teaspoon kosher salt
1 cup (230 grams) plain whole-milk yogurt
1 cup (200 grams) plus 1 tablespoon (13 grams) sugar
3 extra-large eggs
1 tablespoon grated grapefruit zest (approximately one large grapefruit)
1/2 teaspoon pure vanilla extract
1/2 cup (120 ml) vegetable oil
1/3 cup (80 ml) freshly squeezed grapefruit juice

For the glaze:
1 cup (120 grams) confectioners' sugar
2 tablespoons (30 ml) freshly squeezed grapefruit juice

Preheat the oven to 350°F. Grease an 8 1/2 by 4 1/4 by 2 1/2-inch loaf pan or two smaller pans. Line the bottom with parchment paper. Grease and flour the pan.

Sift together the flour, baking powder, and salt into 1 bowl. In another bowl, whisk together the yogurt, 1 cup sugar, the eggs, grapefruit zest, and vanilla. Slowly whisk the dry ingredients into the wet ingredients. With a rubber spatula, fold the vegetable oil into the batter, making sure it's all incorporated. Pour the batter into the prepared pan and bake for about 50 minutes, or until a cake tester placed in the center of the loaf comes out clean.

Meanwhile, cook the 1/3 cup grapefruit juice and remaining 1 tablespoon sugar in a small pan until the sugar dissolves and the mixture is clear. Set aside.

When the cake is done, allow it to cool in the pan for 10 minutes. Carefully place on a baking rack over a sheet pan. While the cake is still warm, pour the grapefruit-sugar mixture over the cake and allow it to soak in. Cool.

For the glaze, combine the confectioners' sugar and grapefruit juice and pour over the cake.

Yield: 2 small loaves

One year ago: Secretly Healthy Fudge Balls
Two years ago: Brigadeiros (Brazilian Fudge Balls)
Three years ago: Braised Coconut Spinach and Chickpeas with Lemon
Four years ago: Peanut Butter Cup Blondies
Five years ago: Caramels
Six years ago: Yucatán Pork Tenderloin
Seven years ago: Carole's Country Style Spare Ribs
Eight years ago: Buttermilk Bran Muffins