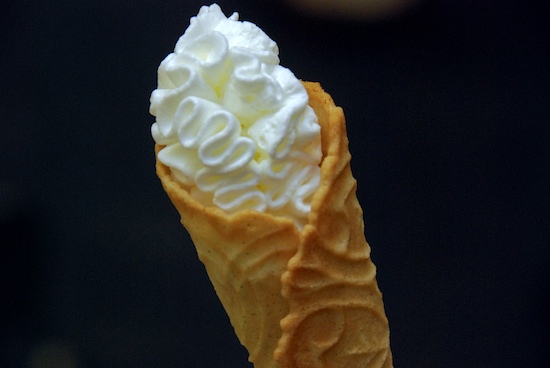 Ever since Thanksgiving, things have been a whirlwind around here and consequently I haven't posted in a while. In addition, I also made a bunch of recipes that weren't worthy of posting, but that changed today!
One of my sons had a holiday party in his classroom today and the theme was "An International Feast". Every family was asked to make a dish from their ethnic background. My husband is of Danish heritage, so I decided to make something Scandinavian. Krumkake are actually Norwegian, not Danish, but don't tell anyone. Denmark and Norway aren't that far apart.
I got the idea from my sister. Her husband is of Norwegian heritage and his grandmother used to make these every Christmas. He grew up loving them. My sister's Aunt Judy gave her a Krumkake iron a number of years ago (thank you Aunt Judy!) and my sister has been making them for Christmas ever since, keeping the nice family tradition alive. When my sister heard that I had to make something special for a school celebration she talked me into borrowing her Krumkake iron and whipping some up.
I don't usually post time-consuming recipes or recipes that need special equipment, but these were so good that they're worthy of posting. They were a huge hit at the school parties today. Two of my sons had parties, so I brought enough of these for two classes. In total, I was at the stove for 4+ hours, but seeing the smiles on the children's faces made it all worthwhile.
I filled them with whipped cream (on demand) at school. I plan to put ice cream in them as well. I don't like store-bought ice cream cones. I think they taste like cardboard. These on the other hand are spectacular and will be perfect as an ice cream cone. You can also serve them with powdered sugar on them.
A couple of tips. Making these is a little like making pancakes. The first one never looks as good as the rest of them do. Eat the first one yourself! Put on some good music because you'll be standing at the stove for quite some time (~ 2 hours.) Have fun!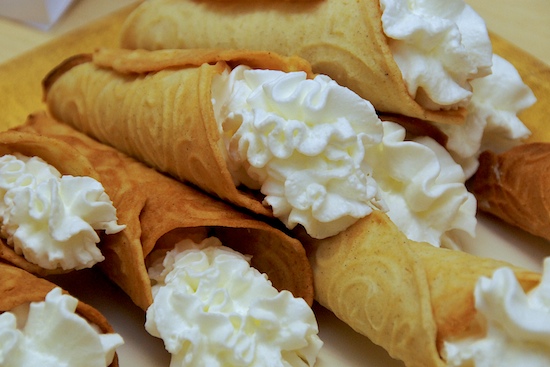 Krumkake
Adapted from Aunt Judy's recipe

1 cup sugar
4 eggs
2 cups flour
1 cup melted butter
1/2 tablespoon ground cardamom (more or less to taste)
1/4 teaspoon vanilla

Line your stovetop (around your burner) with foil. There is a lot of butter in these wafer cookies, and as you turn the Krumkake iron some butter may leak out onto your stove. Using foil around your burner will save lots of clean-up.

Spray the Krumkake iron with Pam.

Preheat the Krumkake iron. It takes about 5 – 6 minutes to heat up over a medium-high flame. Don't forget to flip it to warm both sides.

Using an electric mixer, beat eggs slightly. Gradually add sugar and continue to beat until light and creamy. Slowly add melted butter.

Sift flour and fold into egg mixture with cardamom and vanilla.

Drop by teaspoonful onto heated Krumkake iron. Cook on both sides for about a minute over a medium-high flame; then remove and roll on a cone shaped form.

Remove from cone when cool or when the krumkake holds its shape.

Repeat process until all the batter is used.

Serve plain or fill with sweetened whipped cream and strawberries.

Yield: ~30 Krumkake

Print This Recipe