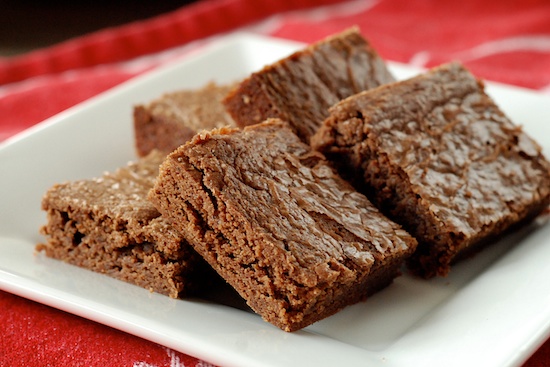 With four boys in the house, we have a lot of Easter candy kicking around. This year, the boys received some really nice chocolate bunnies, which they passed over to eat their Sour Patch Kids, jelly beans and other non-chocolate treats. Although I think they're crazy, I happily put the bunnies in the freezer so I could ultimately cook with them.
These brownies are delicious and they're a great way to use up extra chocolate Easter bunnies! In addition to being delicious eaten by themselves, they're great with a scoop of vanilla ice cream.
You can either use a postage scale to measure 9 oz. of chocolate, or if you're using bunnies, most chocolate bunnies have their weight indicated someplace on their wrappers.
I make this recipe in a single pot. I mix everything right into the pot that I use to melt the chocolate. I love that there are so few dishes to wash at the end.  I have made these a couple of times now and I have used  waxed paper in my pan both times.  I might try to make the recipe next time without it.  I figure I might have difficulty getting the first brownie out of the pan, but I think I'll be ok after that.  I'll let you know how I do.
Milk Chocolate Brownies
Recipe slightly adapted from Tate's Bake Shop Blog

1/2 cup salted butter
9 ounces milk chocolate, chopped
1/2 cup sugar
2 teaspoons vanilla
2 eggs
3/4 cup all purpose flour
1 tablespoon cocoa powder
A pinch of salt

Preheat oven to 350 degrees. Butter and line with wax paper an 8 inch square baking pan.  Let the waxed paper hang out over two edges so the brownies can easily be removed from the pan when their cooked.

In a small saucepan, melt butter and chocolate, stirring til just melted. Add sugar and vanilla. Add eggs one at a time, beating well after each one. I use a spoon. No need for a mixer. Stir in flour, cocoa powder and salt. Spread mixture into prepared pan.

Bake for 20 minutes or until a wooden toothpick comes out with a few crumbs. Better to underbake than overbake!

Yield: 16 – 2" squares

Print This Recipe